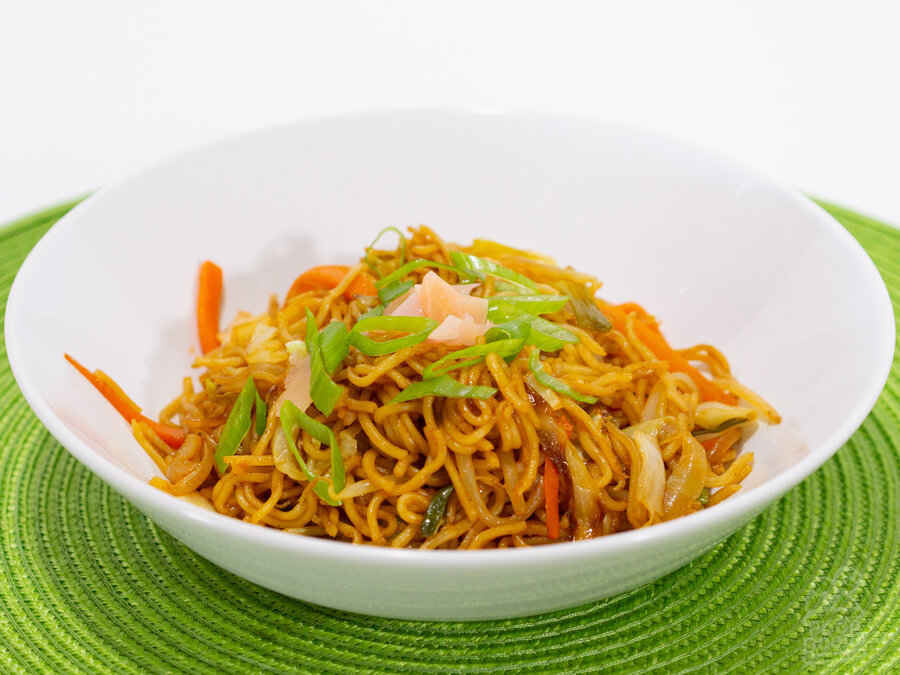 Konnichiwa my dudes. Y'all ready for a quick mid-week meal that can be made from pantry staples? I am. It's too hot to be spending all our time in those steamy kitchens. Today we're making Veggie Yakisoba. Itadakimasu!
Hot Tip #1
You can also use Heinz 57 Steak Sauce or Worchestershire sauce if you can't find the Bulldog sauce!
Hot Tip #2
You can use regular instant ramen noodles in this recipe! Cook the noodles in boiling water for about 1-2 minutes then drain them and continue with the recipe. I would start cooking them when my cabbage starts browning.
Episode
Ingredients
How much are we making?
✓
Ingredient
Amount
Bulldog Vegetable and Fruit Sauce
5 Tablespoons
Black pepper
1/2 Teaspoon
Yakisoba Noodles
2 Packets
Vegetable Oil
2 Tablespoons
Pickled Ginger (Optional)
Steps
Prep Ingredients

Thinly slice the onion and slice the carrots into matchsticks.
Cut the green onion tops into 1-2 inch pieces.
Mix together vegetable and fruit sauce, sugar, soy sauce, ketchup, and black pepper in a small bowl.
Open the noodle packets into a colander and rinse under warm water to break the noodles up some out of their brick shape.

Let's Cook

Heat up the vegetable oil in a large non-stick skillet over medium heat.
Once the oil is hot add the carrot, onion, and cabbage to the pan. Continue cooking until the onion and carrots soften, and the cabbage begins to brown on the edges. About 5-10 minutes.
After the cabbage is starting to brown, add the bean sprouts and green onions and cook until the green onions start to wilt. About 2-3 minutes.
Now add the noodles to the pan and mix well. Fry this for 3-5 minutes.
Now add the sauce to noodles and turn off the heat, mixing well to get those noodles nice and sauced.
Plate it up with some pickled ginger and green onions on the side and enjoy!