Mediterranean Faux-lafel Salad Bowl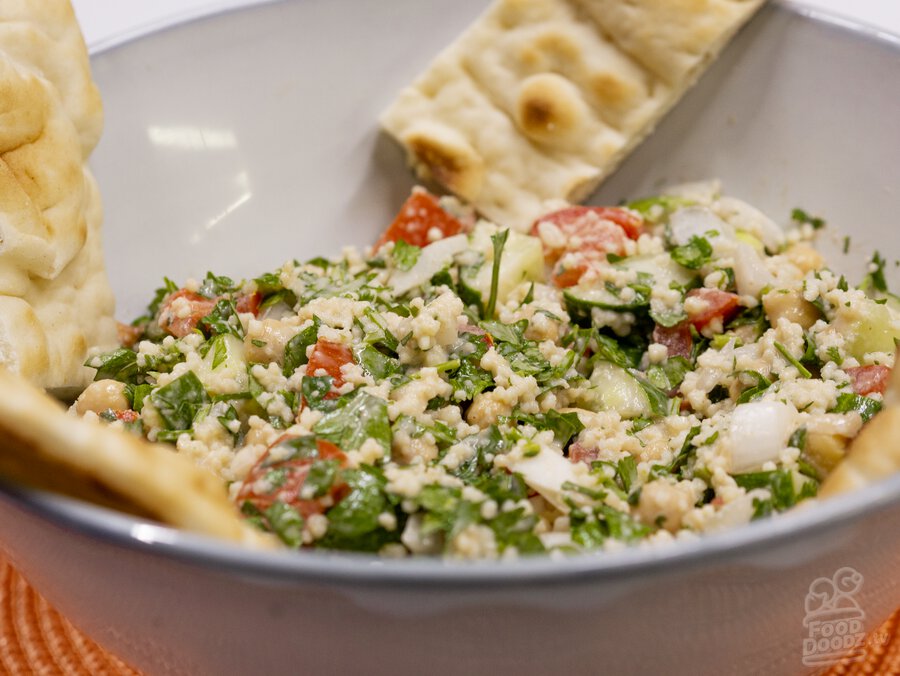 Craving falafel but don't wanna order out or make them? Well we got the recipe for you. Today we're making my favorite lazy recipe that's great for these hot summer days, Faux-lafel Salad. It's all of the ingredients of a Falafel bowl in a single dish. Let's make it!
Hot Tip
You can use orzo pasta, bulgur wheat, or even quinoa instead of the couscous!
Episode
Ingredients
How much are we making?
✓
Ingredient
Amount
Drained Chickpeas(15 Oz)
1 Can
Olive Oil(Optional)
1 Teaspoon
✓
Ingredient
Amount
Ground Cumin
1/2 Teaspoon
Ground Coriander(Optional)
1/2 Teaspoon
Ground Cayenne(Optional)
1/4 Teaspoon
Steps
Cook the Couscous

In a small sauce pot add the 3/4 cup of water along with a pinch of salt and olive oil (if using). Bring it to a boil.
Add the couscous to the pot along and give it a good stir. Cover it with a lid. Allow this to sit for about at least 5 minutes, then remove the lid and give it a good stir.

Chop the Veggies and Herbs

Chop the cucumber and tomatoes into bite-sized pieces.
Cut the onion up into a medium dice.
Finely chop up the parsley and cilantro.

Make the Dressing

In a medium sized bowl add tahini, garlic, ground cumin, ground cayenne, ground coriander, salt, water, and lemon juice. Mix this well.

Assemble the Salad

In a large mixing bowl add all of the chopped veggies and herbs, the chickpeas, the couscous, and the dressing. Mix very well and serve with flat bread. Enjoy!