Vegan Italian Sausage Crumbles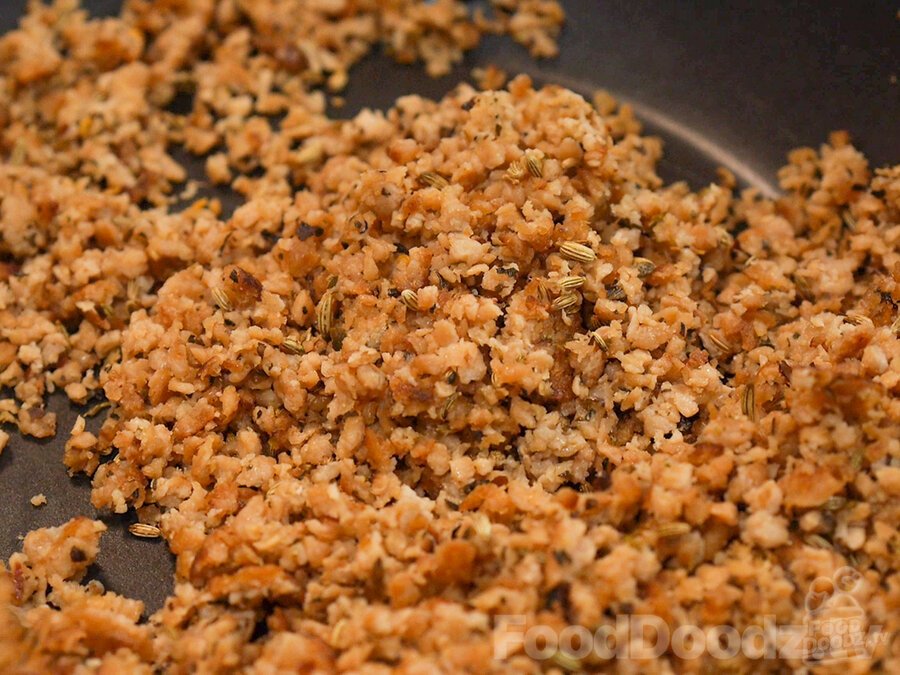 This is the best Vegan Italian Sausage you're ever gonna put on a pizza. Below is a link to a totally Radical Vegan Pan Pizza that uses this recipe.
#ProTip
Use a non-stick pan! This stuff can easily stick to other pans.
Episode
Ingredients
How much are we making?
✓
Ingredient
Amount
Textured Vegetable Protein (TVP)
1 cup
Whole Fennel Seeds
1.5 Teaspoons
Dried Oregano
1/2 Teaspoon
Red Pepper Flakes
1/2 Teaspoon
Garlic Powder
3/4 Teaspoon
Onion Powder
1/2 Teaspoon
Steps
Hydrate TVP

Pour hot water over TVP and stir it. Allow to sit for 5-10 minutes.

Make Sausage

Heat oil in a medium sized non-stick skillet over medium heat.
Once hot add the rehydrated TVP. It might pop a little so be careful. I like to spread the TVP out as thin as I can to make it brown as fast as possible.
After a few minutes add the fennel seeds and saute for about 2 minutes. You should really smell the Italian in the Italian Sausage at this point.
Add the rest of the ingredients to the pan and continue cooking for about 5 more minutes until the sausage is well browned.
Enjoy!