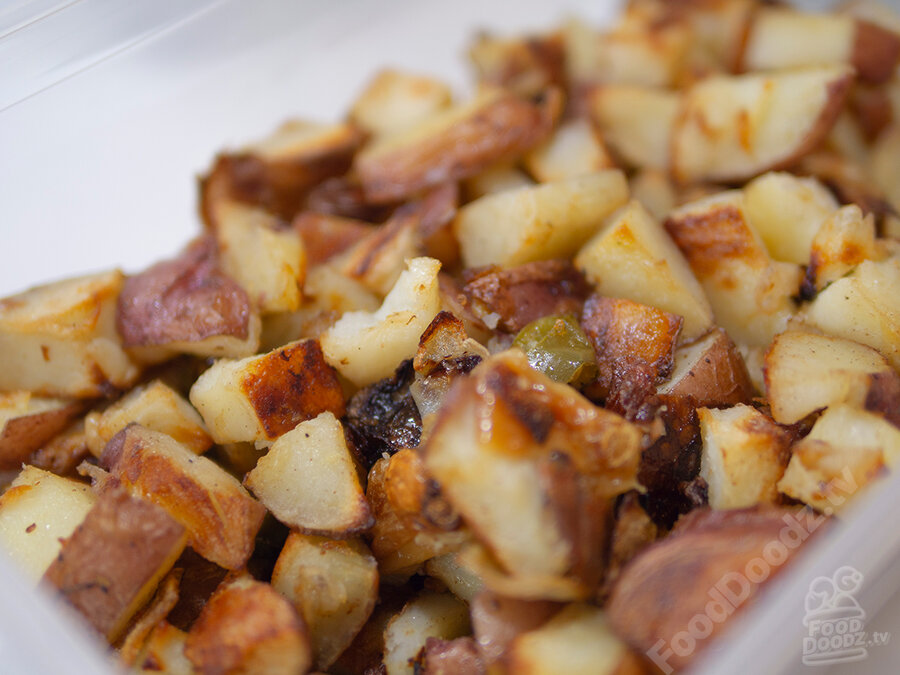 Today we're going to show you how to make the most epic spicy roasted potatoes. They make a great side for a mexican / tex mex meal especially if you're getting tired of the standard rice (which was our last video…). Let's make it.
#ProTip
Spray your pan with oil to ensure that there is no sticking!
Episode
Ingredients
How much are we making?
✓
Ingredient
Amount
Potatoes (Red or Waxy type preferred)
2 lbs
Steps
Prep

Preheat oven to 400°F
Chop potatoes up into bite sized pieces (1.5-2 inch)
Chop up onions into equally sized pieces as the potatoes. Don't make them too small or they could get a little too overdone.
Chop up serranos into big chunks
Break off garlic cloves from bulb and keep the skin on! It could burn without this.
Put the potatoes, onions, serranos, and garlic into a bowl and add the oil to it. Add pepper and mix well.
Place on a baking sheet (foil lined for easy cleanup!), and spread mixture evenly. Make sure that the foil is well coated in oil, you might want to spray it with oil first. (Mine stuck in the video :()
Sprinkle the entire sheet with salt, coating everything as well as you can.

Cook

Place into preheated oven and set a timer for 30 minutes
After 30 minutes, pull potatoes out of the oven and stir well.
Place potatoes back in the oven, and add another 30 minutes to the timer. You might need check the potatoes for overdoneness after 15 minutes.
After 30 minutes pull the potatoes out and take the garlic cloves out. Squeeze the molten garlic goodness out of its paper with a plastic bag unless you want to taste garlic on everything you eat with your hands the next day. Stir and enjoy!