Vegan Hashbrown Casserole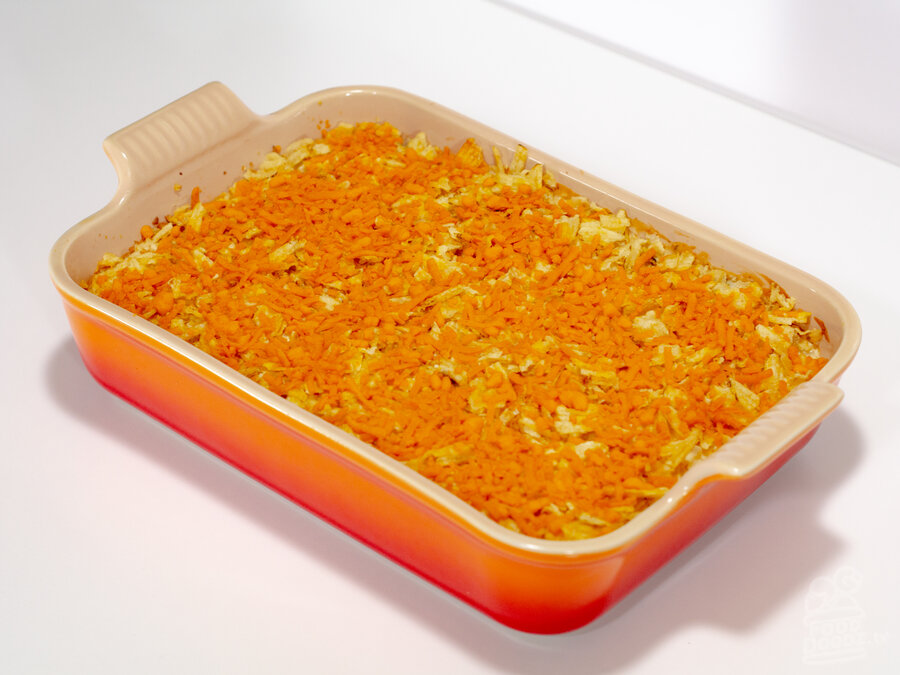 Today we got a special family holiday recipe for you (veganized!). The name Vegan Hashbrown Casserole doesn't stand out much, but I promise that you and your family will love this!
Hot Tip
You can use regular dairy products for a vegetarian delight!
Episode
Ingredients
How much are we making?
✓
Ingredient
Amount
Cubed Frozen Hashbrowns
2 pounds
Vegan Sour Cream
24 Ounces
Vegan Butter
2 Tablespoons
Cayenne Powder
1/4 Teaspoon
Fresh Rosemary
1 Tablespoon
Black Pepper
1/2 Teaspoon
Crushed Wavy Potato Chips
1 Cup
Shredded Vegan Cheddar Cheese
1 Cup
Steps
Prepare Sauce

Add a large skillet over medium heat and add the vegan butter. While the pan is heating chop up celery, onion, and mince the garlic.
Once the pan is hot, add the celery and onions and saute until translucent.
Add the garlic and saute until aromatic about 1 minute.
Add the garlic powder, onion powder, thyme, cayenne, salt, pepper and rosemary to pan. Saute for a few minutes.
Add the vegan sour cream and water to the pan. Cook for a few minutes mixing to thoroughly incorporate the seasonings.
Once thorughly mixed and heated through, add the vinegar and take off the heat. Allow this to cool for a few minutes.

Assemble Casserole

Turn the oven to 350F and let it heat up.
Get out a large baking dish (at least 13"x9") and spray the inside with the cooking oil.
Put hashbrowns in the dish.
Pour sour cream mixture over the top and spread it as evenly as you can.
Crush up chips and spread evenly over the top.
Top with vegan cheddar cheese.

Bake and Enjoy

Place in oven and set a timer for 35 minutes.
After the timer is up, take out the dish and enjoy!