Gyudonburi (Beef Rice Bowl)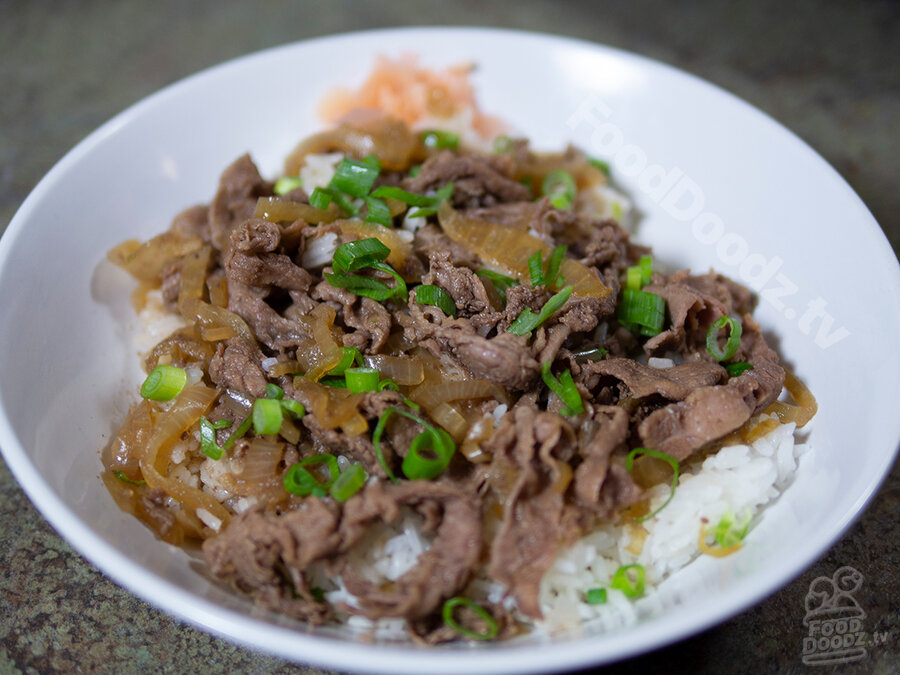 Today I'm going to show you how to make one of my favorite Japanese dishes, Gyudonburi. Its a sweet, salty, savory simmered beef dish that goes amazingly with rice. It really easy to make, is really filling, and is quite cheap.
#ProTip
You can leave dashi out if you like, you could even use chicken broth!
Episode
Ingredients
How much are we making?
✓
Ingredient
Amount
Medium Grain Rice
2 rice cooker cups
Dashi Powder
0.5 Teaspoon
Sake (Optional)
2 Tablespoons
Green Onions (Optional)
3-4
Pickled Ginger (Optional)
Steps
Prep

Wash japanese style rice until the water is mostly clear. Place in rice cooker, add water, and cook according to rice cooker settings for small-medium sized white rice.
Thinly slice medium sized onion.
Get out a medium sized bowl and add dashi powder, sake, mirin, soy sauce, and water. Mix well
Thinly slice green onions if using.

Cook

Put a 12 inch non-stick skillet over medium heat. Add sauce prepared earlier to pan and allow to come to a boil.
When sauce is boiling, add thinly sliced onions.
When the onions are translucent, add the thinly sliced beef and spread evenly.
Cook beef until browned all over and the sauce has reduced some.

Serve

Add cooked rice to a bowl and top with the beef and some of the juice. Top with green onions and pickled ginger if desired and enjoy!