Green Gumbo (Gumbo Z'herbes)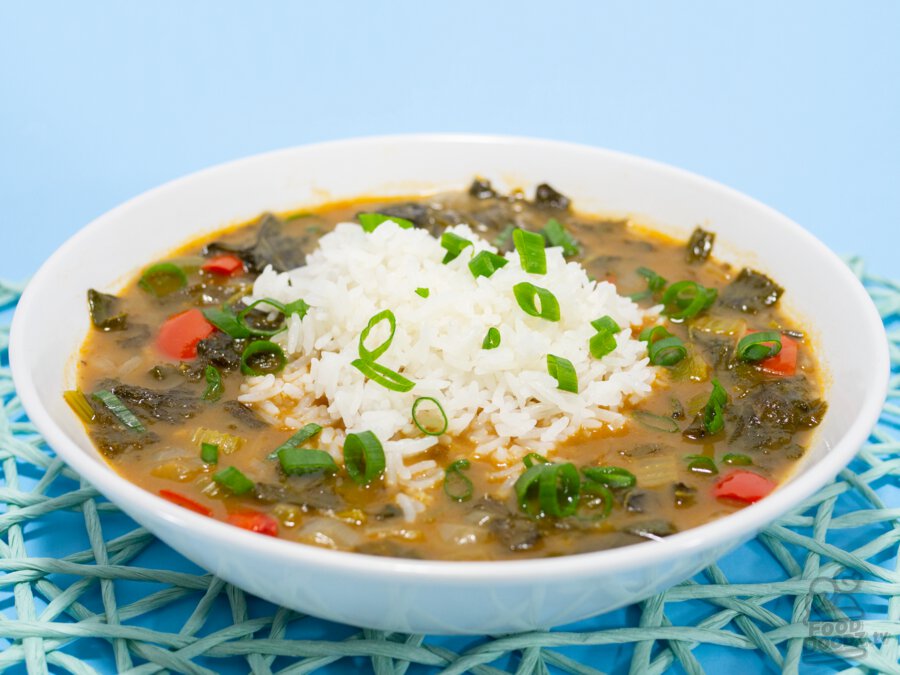 Today we're gonna make something a little different. It's kind of a mix of a traditional Lousiana style Gumbo and everybody in the south's favorite, Greens. It's like the best of both worlds, and it's also vegan! Let's get a little taste of the bayou in our mouths!
Hot Tip
When stiring the roux, be very careful. It's extremely hot!
Episode
Ingredients
How much are we making?
✓
Ingredient
Amount
Mix of Collard Greens and Mustard Greens
4 Pounds
Better Than Bouillon Vegetable Base
1.5 Tablespoons
Louisiana Style Hot Sauce
1 Teaspoon
Salt Free Cajun Seasoning
3 Tablespoons
Vegan Worcester Sauce
1 Tablespoon
Steps
Clean Greens

Thoroughly wash greens and cut or tear up into medium sized pieces. Not too big and not too small because these are going to cook down a lot.

Making the Trinity

Now chop up the onion, bell peppers, and celery into bite sized pieces. Peel and mince the garlic as well.

Making the Roux

Get the biggest pot you have and put it on the stove over medium heat. After about 5 minutes of heating up add the oil.
As soon as the oil is added, add the flour to the oil and whisk to thoroughly combine. Continue cooking, occasionally whisking every minute or so for about 15 minutes until you reach a milk chocolate color. Below I have the different colors or stages of the roux, starting at the beginning stages to the final stage we wish to achieve (the milk chocolate. It gets darker the longer you cook this. Be careful and constantly whisk it.

Final Cooking Steps

Now add the onions, peppers, and celery to the pot. (It will steam a lot). Mix well. Cook this until the onions have become slightly translucent.
Add the minced garlic and cook for another 2-3 minutes.
Add water, vegetable base, cajun seasoning, bay leaves, and worchester sauce. Mix well and bring to a boil. (It will splash and steam a lot at first)
Once the pot has reached a boil, add in all of the greens and try to not spill them all over your stove like I did. It will look like there's way too much to fit in the pot, but they will wilt down pretty quickly.
Add the hot sauce and liquid smoke.
Put a lid on the pot, turn the heat down, and simmer (low medium-low) this for 1 hour.
After 1 hour is up your greens should be very cooked down. Add the salt and mix well.
Your greens are finished! Serve this up in a bowl with some white rice and the green onions and enjoy!