Instant Pot Red Beans and Rice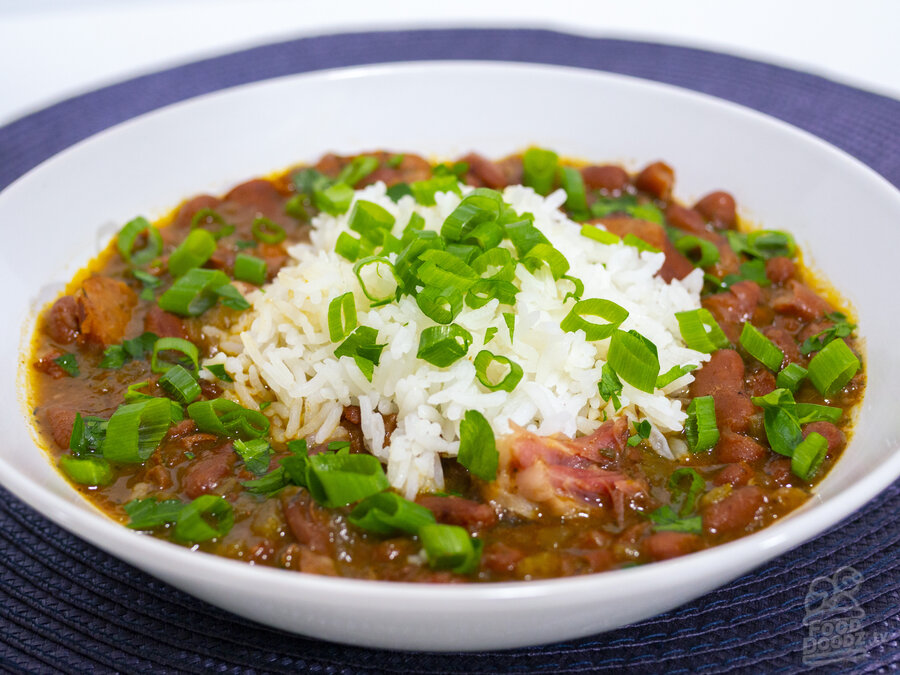 Today we're gonna get a little taste of the bayou, with some red beans and rice. Usually red beans take a while to cook, but we're chopping that time in half by using our best kitchen friend, the Instant Pot! I garontee it's gonna be delicious. Let's make it!
Hot Tip
Soak your beans in salted water! Use 1 tablespoon of kosher salt per quart of water!
Episode
Ingredients
How much are we making?
✓
Ingredient
Amount
Cayenne Pepper
0.5 Teaspoon
Black Pepper
0.5 Teaspoon
Better Than Bouillon Chicken Base
4 Teaspoons
Andouille Sausage
1 Pound
Cayenne Hot Sauce
10 Shakes
Green Onions (Optional)
3
Chopped Parsley (Optional)
Steps
Prep ingredients

Soak beans in water overnight (you can add salt to the water if you like it didn't make a difference). Then rinse them off.
Chop up the large onion, bell pepper, and celery into bite sized pieces.
Mince or put peeled garlic cloves through a press.
Slice andouille into coin sized pieces.

Cook the beans

Turn the instant pot on saute mode, and add the oil.
Add andouille until browned well on both sides. Remove from the pot and set aside.
Add the onion, bell pepper, celery, and garlic to the pot. Add a little bit of water to the pot(less than 1/4 cup) to help deglaze the browned sausage bits. Cook until the onions are translucent (5 minutes or so).
Once the vegetables are translucent, add the garlic powder, onion powder, thyme, oregano, paprika, and bay leaves to the pot.
Add ham hock to pot.
Add beans to pot.
Add chicken base and water to pot.
Add the hot sauce to the pot.
Put the lid on the instant pot making sure that the vent is sealed. Put the instant pot on Manual mode (High Pressure) for 42 minutes. Let the beans rest for 20-30 minutes after the timer is up.

Finishing up

After the timer is up (and the beans have rested for 20-30 minutes), vent the instant pot.
While the instant pot is venting chop up the green onions, and parsley(if using).
Once the pressure has been released, take the lid off and turn the instant pot back on saute mode. Now mash some of the beans up against the side of the pot simmering for a few minutes to thicken up the beans.
After a few minutes of simmering, turn off the instant pot and season with salt to taste (might need a 1 teaspoon or so kosher salt).
Enjoy!