Falafel Wraps with Cucumber Tomato Salad and Sesame Citrus Dressing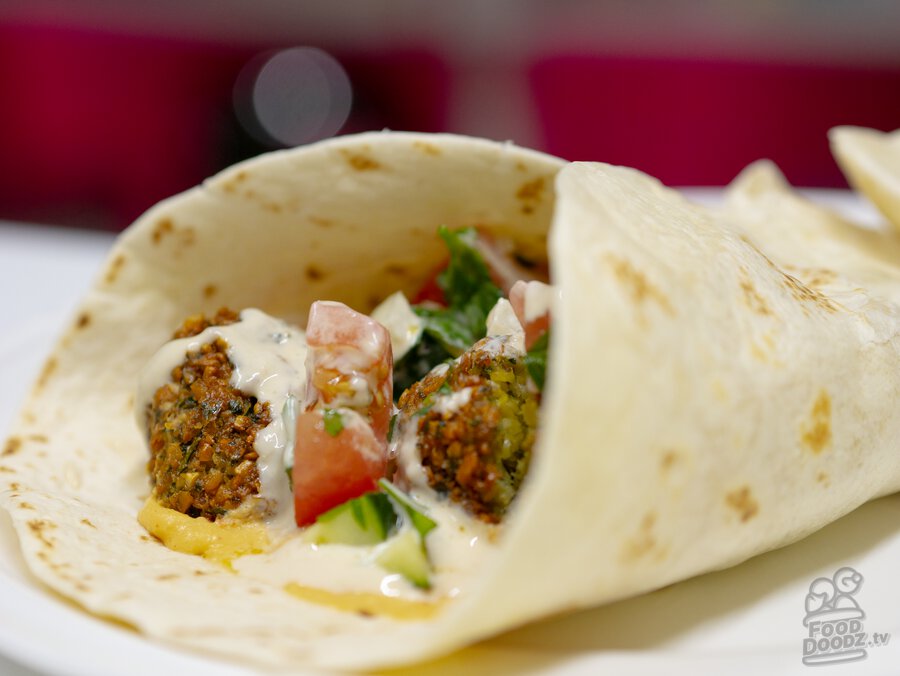 Today we're making one of our all time vegetarian favorites that'll even make a full blown meatarian happy. We just couldn't put away our fryer this season. Welcome to OMGMeals Season 2 - Deep Fried. We're making falafel wraps with hummus, a cucumber tomato salad, and tahini sauce. We couldn't find any pita but we guarantee you that flour tortillas work just as well if you freshly warm and toast them. Let's make it!
Hot Tip #1
If your falafel is resistant to flipping, leave it for a couple more minutes. It will release itself from the bottom of the pan when it's ready!
Episode
Ingredients
How much are we making?
✓
Ingredient
Amount
Ground Coriander
1/2 Teaspoon
Ground Cayenne (Optional)
1/2 Teaspoon
Flour (As Needed)
1.5 Tablespoons
✓
Ingredient
Amount
Cucumber (Medium Sized)
1/4
Lemon Juice
From Half A Lemon (~1.5 Tbsp)
✓
Ingredient
Amount
Ground Cumin
1/8 Teaspoon
Lemon Juice
From Half A Lemon (~1.5 Tbsp)
✓
Ingredient
Amount
Flour Tortillas (Optional)
6
Steps
Prepare Chickpeas

Take dried chickpeas, rinse well removing any bad looking chickpeas (moldy or dark ones). Place in a large bowl and cover with enough water to cover the chickpeas by 3-4 inches. They swell up a lot, so the more water the better! Soak these overnight or for at least 8-12 hours.

Prepare Falafel Mixture

Drain your soaked chickpeas and rinse well. Dry them thoroughly with a kitchen towel or paper towels.
Add your chickpeas to a food processor.
Chop up half a small onion into large chunks and add to the food processor.
Roughly chop off the leaves from the stems of the cilantro and parsley bunches and add these leaves to the food processor.
Add the garlic cloves, cumin, coriander, cayenne (if using), and the salt to the food processor.
Pulse the procesor for 10-15 seconds at a time until the mixture is coarsely and uniformly chopped. We don't it too fine, the falafel will feel really heavy to eat.
Add the 1.5 tablespoons of flour to the falafel mixture. Pour it into a large bowl and stir well. The flour is kind of optional because I'm not exactly sure it really did anything. Cover and place the bowl in the fridge for at least 30 minutes to an hour. This helps the falafel mixture stick together better.

Prepare Tahini Sauce

Add well shaken or mixed tahini to a small bowl. It seperates in its jar like natural peanut butter.
Put the garlic cloves through a garlic press or mince them into this small bowl.
Squeeze the half lemon along with the cumin, salt, and water. Mix this well, it will take a minute or two of mixing to get it to emulsify together well. It should be a slightly thick sauce. If it's too thick to easily pour, add a splash of water and mix it well. Cover and place in the fridge as well.

Make the Salad

Chop up the tomato, cucumber, and onion up into big bite sized pieces and add them to a small bowl.
Roughly chop up the parsley and add to the bowl.
Squeeze the lemon into the bowl.
Add the salt and drizzle the olive oil over the top. Stir well. This is our salad (it's more of a topping). You can cover and place this in the fridge as well.

Fry the Falafels

Add our oil to a large frying pan and heat it to around 350-375F.
While our oil is heating, take the falafel mixture out of the fridge and form it into tight balls (about 2-3 inches in diameter) as best you can. If it wont stay together at all, add a few tablespoons of flour to it and mix well. Let it sit for a another 10 minutes or so and try again. It should work well now.
Once the oil is hot, slowly drop add the falafel balls into the oil. Fry the falafel for about 3-5 minutes on one side. You should start seeing some brown color on the edges of the falafel near the surface of the oil at this point. Now flip the falafel to another side and continue cooking for another 3-5 minutes on this side. Continue until all the sides are well browned and all of the falafels are cooked.
Once a falafel is done, remove to a paper towel lined plate to absorb any excess grease.

Wrap it Up

Heat up a large skillet (perferably non-stick) over medium heat and add a flour tortilla to the pan. Heat this up for about 30 seconds to 1 minute on one side then flip it over and repeat on the this side.
Take the warm tortilla out of skillet and take our hummus and smear a good tablespoon or two of it directly on the tortilla.
Take 2-3 falafel and put on top of the hummus and smash the down (this makes it easier to roll).
Top with the cucumber tomato salad and the tahini sauce. Roll it up into an open ended burrito like thing and enjoy!