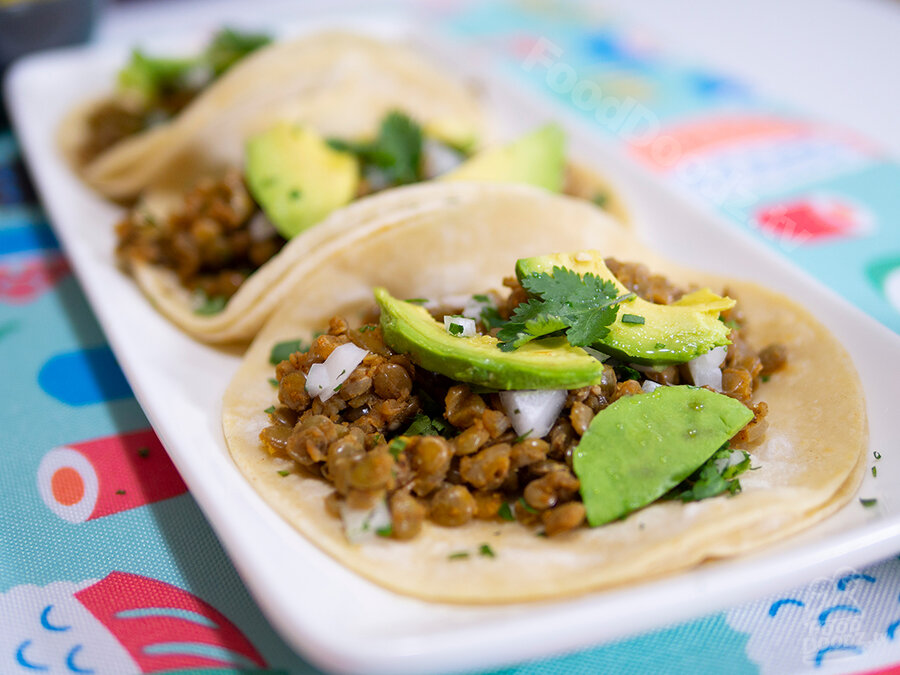 Are you getting tired of the same ol taco meat recipe that you've been making for years (hopefully mine!). I know I am and I'm definitely ready for a changeup. Today I'm going to show you how to make lentil tacos. They're a great substitute for ground meat, and If they're cooked properly (which hopefully ours will be!) they'll have a similar texture to ground meat. They're healthy, great for a meatless monday (if you want to participate in that), and they're way cheaper! So let's go. #OhMyGarlic
#ProTip
Feel free to add any salsa or cheese if that's up your alley.
Episode
Ingredients
How much are we making?
✓
Ingredient
Amount
Vegetable Oil
3 Tablespoons
Taco Seasoning
2-3 Tablespoons
Steps
Get Started / Prep

Put 2 cups of water in a medium sized saucepan and turn the heat to high.
While this is heating measure out 1 cup of brown lentils. Place lentils in a colander and rinse checking for any debris such as rocks or rotten lentils.
Once the water has reached a boil pour rinsed lentils into pot.

Cook the Lentils

Bring the water temperature back up to a boil then as soon as it reaches that point turn it down to a simmer and place a lid on.
Continue to simmer for 20 minutes then check the firmness of the lentils. They should be tender but still a little firm but definitely not crunchy. If they are crunchy continue to simmer for another 5 mins and check again.(If they still are keep doing this step and add more water if it looks dry)
Now drain the lentils.

Cut Up Veggies

Chop up 1 medium sized onion and a serrano or jalapeno pepper. Save some of the onion for topping our tacos.
Peel the garlic and put into a press or mince it.
Chop up some cilantro for topping as well.

Saute Everything

Heat a large sized saute pan and add vegetable oil.
Add onions and pepper.
Cook until the onions are translucent and the peppers are bright green, then add the garlic and cook for another minute.

Seasoning

Now add 2-3 tablespoons of taco seasoning (recipe on other video?) and stir sauteing for another minute.
Next add the drained lentils and stir all the seasoned onions and peppers in and add ¼ cup of water to help evenly spread the seasonings.
Cook until the mixture has thickened about 3-5 minutes, then remove from the heat.

Tortillas / Plating / Munch

Now heat tortillas in big pan over medium heat for 30-45 seconds, flipping once.
Slice lime and avocado for topping.
Now plate. Munch.