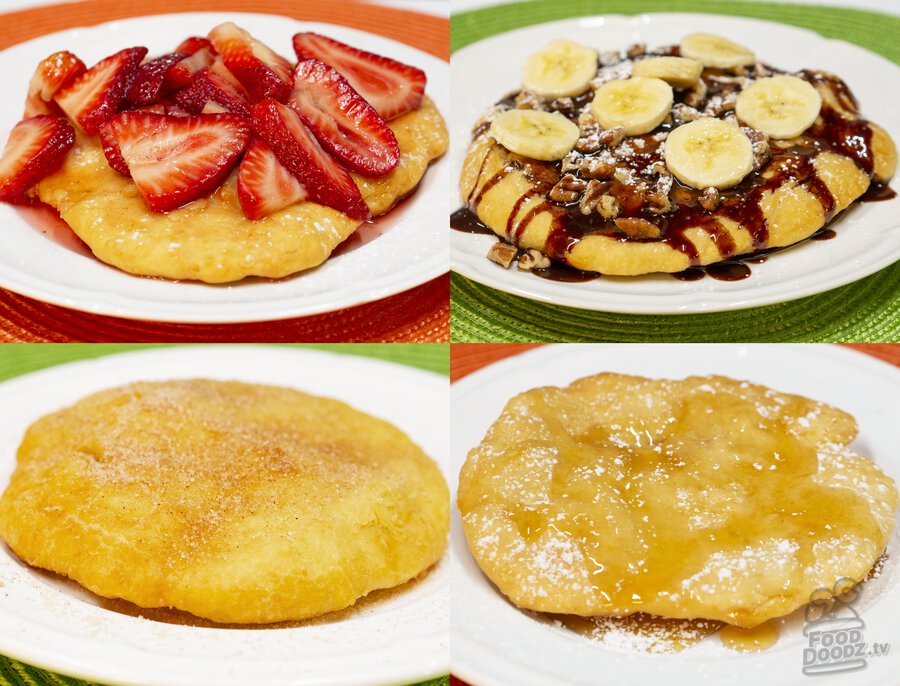 Don't have any yeast but really want to make some doughnuts (donuts?) and not some boring ole cake donuts? Try this!
We're making Native American fry bread, but we decided it was time for a desert recipe on the site. So, we've created four different sweet fry bread varieties for you to try.
Fry bread is usually eaten in savory dishes like Indian tacos (which we will come to another day SOON!!!). Let's make it!
Hot Tip #1
Do not knead the dough until it's smooth. Your fry bread will be super tough and chewy. Knead until it just comes together.
Hot Tip #2
You can use the fry bread as a replacement for tortillas or just general bread. Be forewarned though, it's not as pliable as a tortilla!
Episode
Ingredients
How much are we making?
✓
Ingredient
Amount
Baking Powder
1/2 Tablespoon
Vegetable Oil
2-3 Cups (Enough to Deep Fry In)
Toppings (Choose Your Own Adventure)
✓
Ingredient
Amount
Ground Cinnamon
1 Tablespoon
Steps
Prepare Toppings

Slice starwberries up into small slices and place into a bowl. Top with 1/2 cup of sugar and stir well. Set aside.
In a small saucer, put the last 1/4 cup of sugar and the cinnamon into it. Mix well and set aside.

Prep the Dough

In a large mixing bowl add the flour, salt, baking powder and mix well. Slowly pour in the the warm water and mix until it until all of the water is absorbed. Slowly bring the dough the dough together with your hands. Lightly knead it until it just comes together. If you have a bunch of dry straggly bits that don't mix in, that's okay.
Get out a large deep frying pan and heat over medium to medium high heat. Add the vegetable oil.
While the oil is heating, break off a 2-3 inch diameter ball of the dough. Lightly flour a cutting board or whatever clean surface you want to use. Flatten the dough to between 1/4 - 1/2 inch. Rolling pins really help here. Do this for the remainder of the dough and set aside.

Fry Time Excellent

Once the oil is hot (around 350- 375F) add 1 to 2 of the fry bread doughs. We don't want to overcrowd the pan. Fry them on one side for about 3-4 minutes (or until light golden brown) and flip. Do the same on this side. After golden on both side set aside on a paper towel lined plate to cool. Repeat this for the rest of your dough.

Toppings (Choose Your Own Adventure)

Top your fry bread with any of the toppings listed above.
My favorite was the strawberries and powdered sugar version.

The classic go-to is honey and powdered sugar.

The cinnamon sugar one is really good too. If churros or donuts dressed like this are your thing, you'll love this one.

The chocolate syrup, bananas, and pecans was like something from IHOP. Sure to be a kids favorite.

Enjoy!