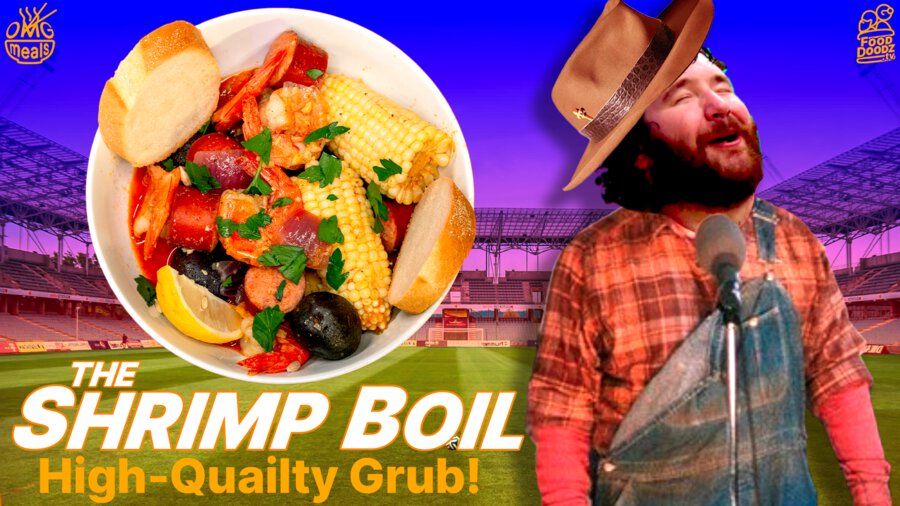 Today we got a real spicy one for ya. We're making my take on a Spicy Shrimp Boil with a delicious garlic butter sauce. It's probably one of the healthiest recipes we've ever made ;). Let's get some of the bayou in our flavorholes!
Hot Tip
The Concentrated Shrimp and Crab Boil is optional!
Episode
Ingredients
How much are we making?
✓
Ingredient
Amount
Concentrated Shrimp & Crab Boil
1.5 Teaspoons
Old Bay Seasoning
2.5 Tablespoons
Cayenne Powder
1 Tablespoon
Lemon Juice from
1/2 a Lemon
Louisiana Style Hot Sauce
1 Tablespoon
Steps
Prepping the ingredients

Get out a large stock pot (at least 8 quarts) and add the 4 quarts of water to it. Add the concentrated shrimp and crab boil to the pot. Bring this to a boil.
While waiting for the pot to boil, shuck, clean and cut the ears of corn in half.
Once the water is boiling add the potatoes to the pot. Boil these for 7-10 minutes. Boil longer if the potatoes are larger.
While the potatoes are boiling, cut up the sausage and onion into large pieces.
After the 7-10 minutes are up add the corn, sausage, and onion to the pot. Boil this for 10 minutes.
After the additional 10 minutes are up, add the shrimp to the pot. Boil this until the shrimp turn pink and curl up into a C shape. (about 3-5 minutes).
After the shrimp are cooked, drain the pot reserving 2 cups of the boiling liquid. Set the boiled ingredients aside.

Make the Spicy Garlic Butter Sauce

In a large frying pan over medium heat, add the butter.
While the butter is melting, mince the 15 cloves of garlic.
After the butter is melted, add the lemon juice and the garlic to the pan. Cook this for 2-3 minutes.
Now add the Old Bay, garlic powder, and cayenne powder to the pan. Saute this for about 30 seconds.
Now add the 2 cups of reserved boiling liquid to pan along with the hot sauce. Simmer this for 5 minutes.
After 5 minutes is up, pour this sauce over the boiled ingredients and mix well. Serve this up with some bread and enjoy!