King Ranch Chicken (The Fancy Way)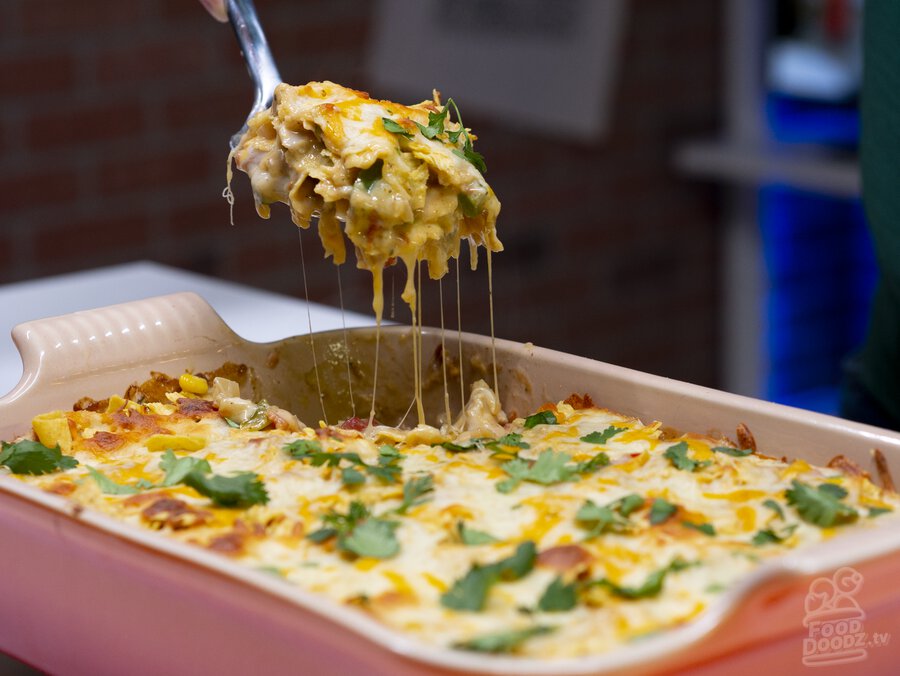 Well it looks like we're back in Tex-Mexico again today. We're making a classic from our childhoods, King Ranch Chicken. However we're making it all little fancy today, by cooking our chicken and veggies in the wonderful browned chicken bits. This recipe is a classic and I'm sure you'll love it as much as I do. (I've literally eaten it for 3 days straight) Let's make it!
Hot Tip #1
You can use tortilla chips instead of regular tortillas. That's how we used to make it as kids!
Episode
Ingredients
How much are we making?
✓
Ingredient
Amount
Adobo Seasoning
1/2 Teaspoon
Vegetable Oil
1 Tablespoon
Cream of Mushroom Soup
1 (10.5 oz) Can
Cream of Chicken Soup
1 (10.5 oz) Can
Chicken Bouillon Powder
1 Teaspoon
Chili Powder
1.5 Teaspoons
Crushed Tortilla Chips
1/2 Cup
Sour Cream (Optional)
3 Tablespoons
Butter (Optional)
1 Tablespoon
Cilantro (Optional)
1 Tablespoon
Steps
Prepare Veggies and Chicken

Chop up onion and bell peppers and add to set aside.
Mince the serrano chile and the garlic clove and set aside as well.
Season the chicken on both sides with the adobo seasoning and 1/2 teaspoon of cumin.

Saute Time

Add the vegetable oil to a medium sized saute pan over medium heat.
Once the oil is hot add the chicken and cook for about 6-7 minutes on one side.
After the 6 minutes is up, flip the chicken over and cook for another 6 or so minutes on this side until the chicken is completely cooked through. Remove from the pan when thoroughly cooked.
Add the butter to the still hot pan and allow it to melt. Once melted, add the cut up veggies and saute for 3-4 minutes scraping the browned bits of chicken on the bottom of the pan.
Now add the frozen corn and cook for another minute or so to thaw the corn out. Then remove the pan from the heat.
The chicken should be pretty cooled off now, so cut it up into bite sized pieces and place in a large bowl.

Assemble the Casserole

Add the cream of mushroom, cream of chicken, rotel, cumin, oregano, chili powder, sour cream, chicken bouillon powder, water, and cooked veggies to the bowl with the cut up chicken. Mix well to get everything all melded together. This is our filling (sauce).
Spray a 9x13 inch baking dish with the cooking spray
Pour a little bit of chicken sauce to the bottom of the dish (maybe about 1/2-3/4 of a cup) and spread evenly.
Put down 6 tortillas on top of this thin layer of sauce.
Now add more sauce (about 1/3 of whats left) and completely cover the tops of the tortillas.
Sprinkle 1 cup of cheese over the sauce.
Now cover the cheese layer with 5 tortillas and cover with more sauce again and another cup of cheese.
Now we are on our last layer. Put the last 5 tortillas down and cover with the rest of our sauce. Then top the chicken sauce with crushed tortilla chips. Top this with the last of our cheese. It's now time to bake.

Baking

Turn your oven to 375F and place the cassrole in for 30 minutes.
After 30 minutes it should be nice and bubbly and the cheese should all be melted and a little brown. Remove from the oven and let it cool for at about 10 minutes before serving. Top with cilantro if using. Enjoy!