Vietnamese Beef Pho Vol 1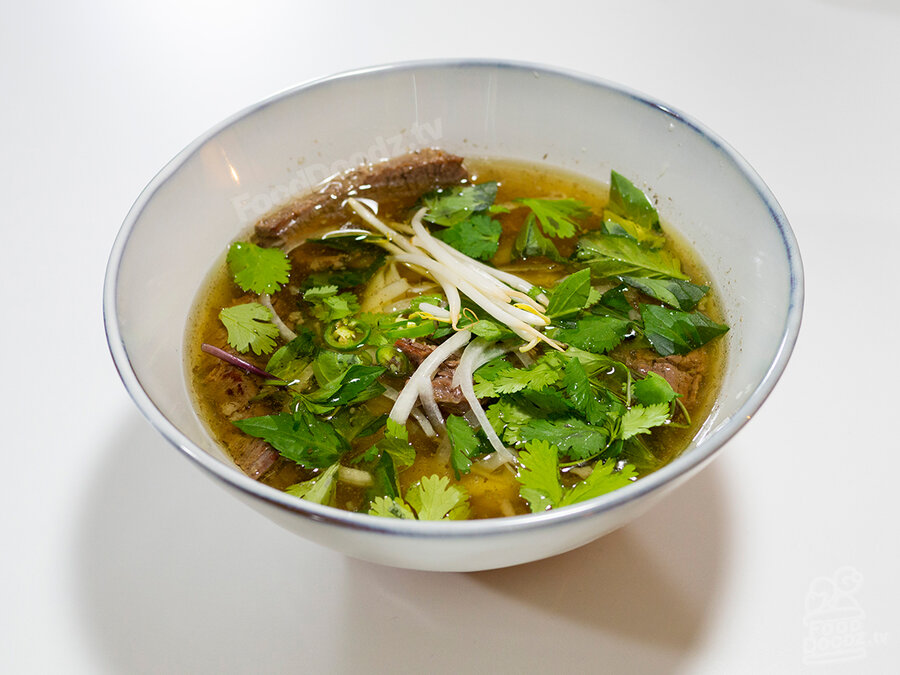 It's been getting chilly lately so we've decided why not make some soup. Not just any soup though, let's make some Vietnamese Pho. It's gonna be pho freakin' nominal for this weather.
#ProTip
If you want to take this to work I'd advise 3 containers. 1 for precooked noodles, 1 for the broth and meat, and one for the herbs and garnishes. When you're ready to eat, heat up broth and noodles seperately then add together along with garnishes.
Episode
Ingredients
How much are we making?
✓
Ingredient
Amount
Fennel Seeds
1/2 Teaspoon
Ground Coriander
1/2 Teaspoon
Rice Noodles
14 oz package
Sriracha or Chile Paste
Optional
Steps
Prep Broth

Take beef bones and place in a pot then cover with water. Bring to a boil.
Slice ginger and onion in half.
While bones are starting to boil, start toasting half of the onion and ginger in a pan until well browned and slightly charred.
Then add star anise, cinnamon sticks, cloves, fennel seeds. Toast for another minute or so until the spices become fragrant. Remove from heat.
Boil bones for 10 minutes removing the stuff that rises to the top. It's not that tasty.
Drain and wash bones under running water and remove any hair or anything unpleasant looking.
Add bones, toasted spices, coriander, brisket, and enough water to the instant pot to fill it to about the 10-11 cup line/
Add 1 tablespoon of fish sauce to pot.
Place lid on instant pot and set to the vent on the top to sealed. Set the mode to Manual, High Pressure, for 42 minutes.

Final Steps

Once the timer has gone off, press the Keep Warm/Cancel Button to turn off the Instant Pot.
Bring a medium sized pot of water to a boil and add about 1/4 of the noodles per serving (about 3-4 oz dry is plenty for 1 bowl). Set a timer according to the package's instructions. Mine were about 6 minutes.
While boiling noodles prep the garnishes. Wash herbs and beansprouts. Slice limes. Thinly slice serranos, and the other half of the onion. Then place on a dish to serve alongside soup.
When the noodle timer is up drain and place in serving bowl.
Release pressure from pressure cooker.
Remove brisket and thinly slice
Remove bones and spices as best you can. You could also strain it here, but I didn't want to dirty up anymore dishes.
Add the rest of the fish sauce, then add salt until it's tasty. You can add more fish sauce if you like instead of the salt, I'm just not the biggest fan of it.
Place slice of brisket in the serving bowl with the noodles. Then add broth to cover.

Eating

When you're ready to eat, place any and as many of the garnishes as you want into your bowl. It's your pho, you have it your way. Enjoy!