Epic BLT with Air Fryer Potatoes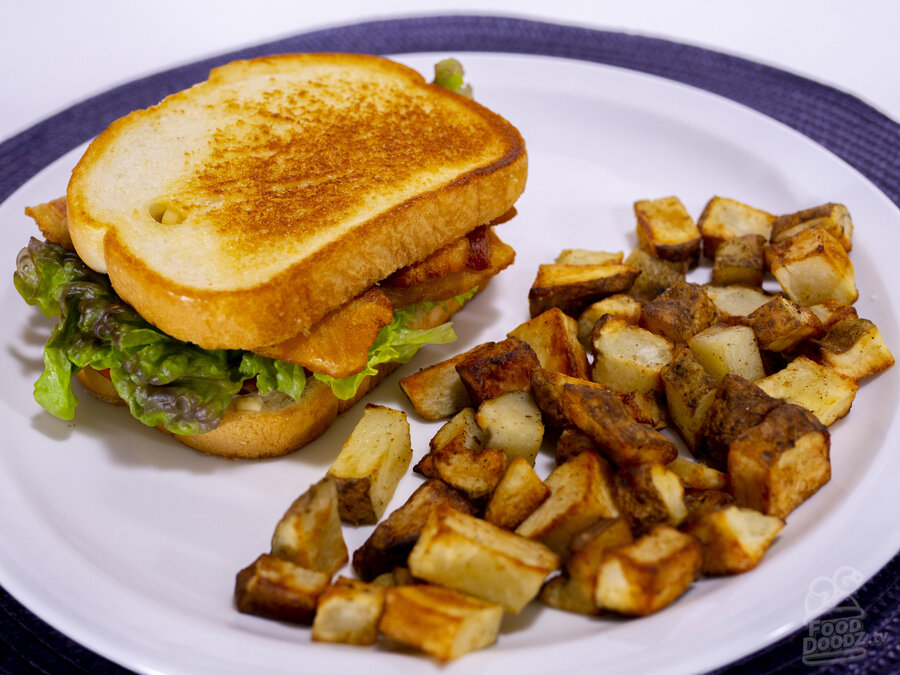 How's it going my dudes. Today were gonna get a little sweaty in the kitchen. We're making epic BLTs with air fryer potatoes. It's gonna be delicious, let's get sweaty.
Hot Tip
Thin bacon takes way less time to cook than thick cut bacon. Mine took about 32 minutes.
Episode
Ingredients
How much are we making?
✓
Ingredient
Amount
Black Pepper
1/2 Teaspoon
✓
Ingredient
Amount
Black Pepper
1/2 Tablespoon
Garlic Powder
1/2 Teaspoon
Steps
Prep ingredients

Turn the oven on to 400F.
Line a cookie sheet with aluminum foil and place a baking rack in the pan. Lay bacon out on the rack
Wash and cut up potatoes into 1 to 1.5 inch cubes.
Put potatoes in a bowl and cover with salt, pepper, garlic powder, and oil. Mix well.
Slice onion and tomato. Mince the garlic.
Mix together mayo, vinegar, salt, black pepper, cayenne, and the minced garlic in a small bowl.


Cook

Once the oven is preheated, place the bacon into heated oven. Set a timer for 25 minutes. Check them after 20 minutes or so to make sure they're not burned. If it is not browned enough for you, add an additional 5 minutes or so.
Spray the air fryer basket with cooking spray.
Put potatoes in the air fryer at 400F for 22 minutes. Give them a good stir after 12 minutes.
Melt butter in a pan and toast the bread on both sides in that delicious butter.

Assemble Sandwiches

Slather the seasoned mayo on the bread then place the onion and tomato slices on the bread. Season the tomato with a little salt and pepper for extra goodness.
Add about 4 pieces bacon to the other piece of bread along with the lettuce. Merge the two sides, add your potatoes on the side and enjoy!
Dig in!