Spicy Thai Coconut Chicken Soup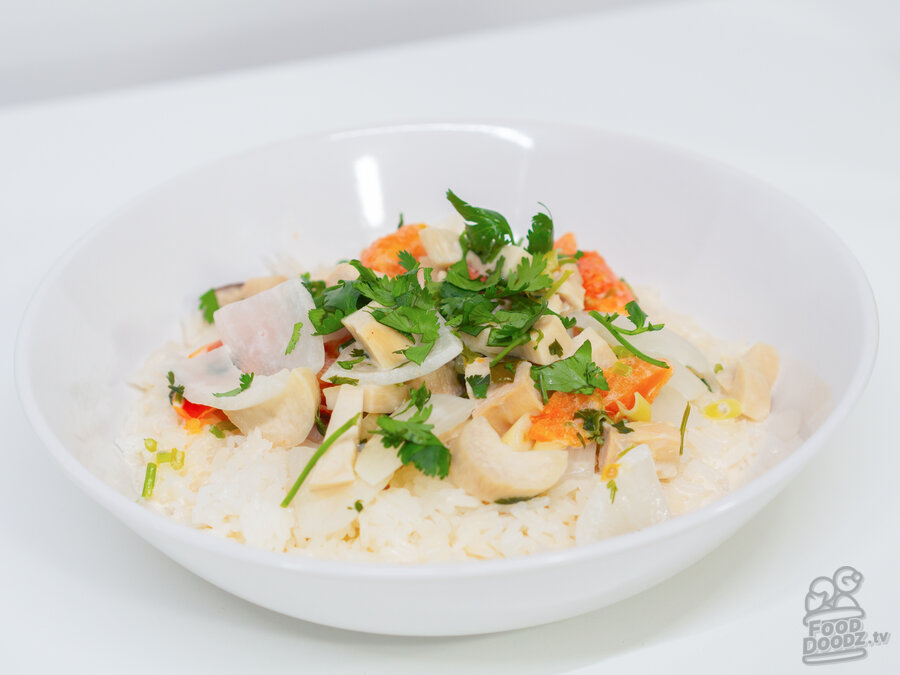 What's up my dudes. It's hot and sweaty today so why not make a little visit to Thailand. Let's get our boxing shorts on and roundhouse kick our tastebuds with some delicious Spicy Coconut Chicken Soup (Tom Kha Gai). Let's get in to it.
Hot Tip #1
When looking for lemongrass, I sometimes find it by the little prepacked boxes of herbs in my grocery stores. You can also find it frozen at some places.
Episode
Ingredients
How much are we making?
✓
Ingredient
Amount
Soy Sauce
1 Tablespoon (Optional)
Kaffir Lime Leaves (Optional)
6
Steps
Prep Ingredients

Chop onion and tomatoes into wedges.
Slice mushrooms up into bite sized slices.
Cut the ginger and lemongrass into big slices.
Juice the 3 limes and roughly chop up the cilantro bunch.
Thinly slice thai chiles and cut the kaffir lime leaves into thin strips.
Cut chicken up into bite sized chunks.

Cooking Time

Add the coconut milk to a large pot along with the lemongrass and ginger. Bring it to a simmer.
Once the coconut milk is simmering add the onion, kaffir lime leaves, tomatoes, mushrooms, and chicken to the pot. Simmer this for 15-20 minutes depending on how big your chicken pieces are.
After the 15-20 minutes is up, remove from the heat. Add the salt, lime juice, and cilantro.
Add some white rice to a bowl and ladle the soup over the top. Enjoy!