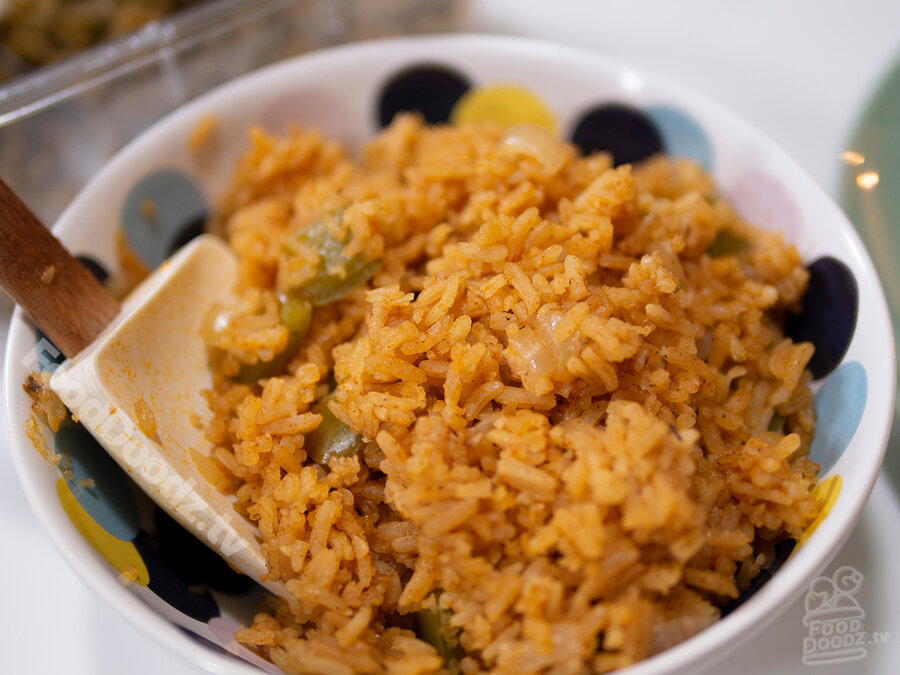 Today I'm going to show you how to make one of my favorite mexican restaurant side dishes, spanish or mexican rice. I've had some great and also some questionable mexican rice from restaurants. It's not hard at all to make a delicious pan of mexican rice and it takes less than 30 minutes. Let's go.
#ProTip
DO NOT WASH YOUR RICE! It will pop like crazy when we try to fry it.
Episode
Ingredients
How much are we making?
✓
Ingredient
Amount
Long Grain White Rice
2 Cup
Taco Seasoning
2 Tablespoons
Vegetable(or Chicken) Broth Concentrate
3 Cups
Vinegar or Lime Juice
1 teaspoon
Vegetable Oil
3 Tablespoons
Steps
Prep

Chop onion and bell pepper into bite sized pieces.
Mince garlic by hand or with a press.

Cook

Put oil into a medium sized saucepan on stove over medium heat for about 5 minutes.
Add rice and fry stirring occasionally until it turns opaque and starts to turn golden
Add onion and pepper(s). Saute until the onions start turning translucent.
Add garlic and saute for another minute.
Add broth concentrate along with water. Slide off burner when adding the water because this will steam up a lot.
Add taco seasoning and bay leaves
Add tomato sauce
Stir until well mixed then bring to a boil.
Once boiling put a lid on turn the burner down to low.
Set a timer for 15 minutes and do not touch the pot or lid at all!
After the 15 minutes are up, slide the pot off the burner and do not touch the pot or lid at all, still! Let sit for another 10 minutes.
Once this final 10 minutes is up, remove the lid, stir and add 1 tsp of vinegar or lime juice to the rice.

Enjoy!