Chicken Saag with Cumin Rice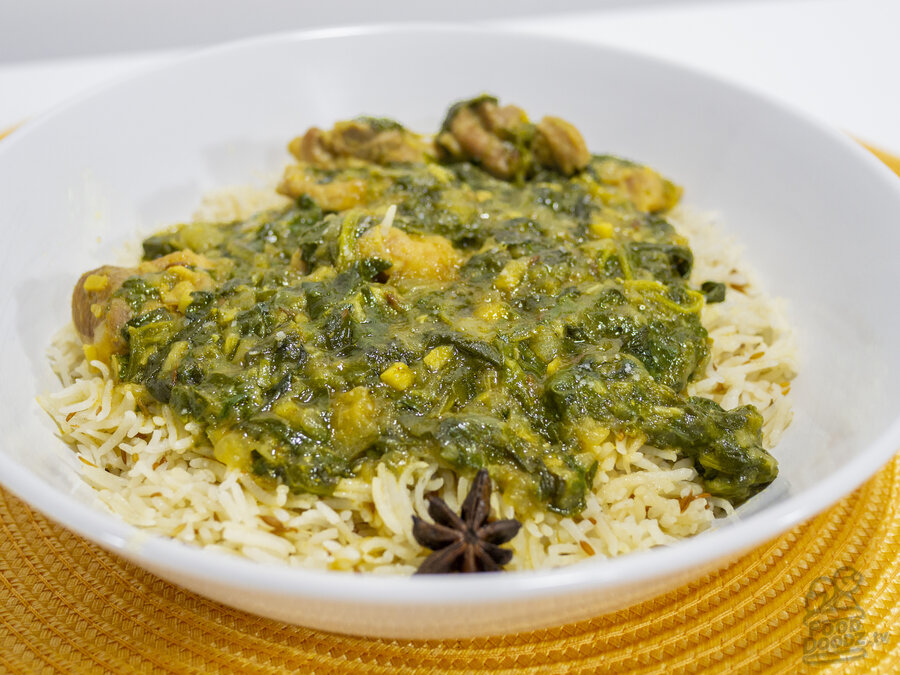 Today we're gonna ride our lil Instant Pot to India and make some amazing saag along with cumin rice. Forget takeout, we can do better for way less money. Let's do it!
Hot Tip
Use an immersion blender if you want that real restaurant experience!
Episode
Ingredients
How much are we making?
✓
Ingredient
Amount
Boneless, Skinless Chicken Thighs
1 lb
Vegetable Oil
2 Tablespoons
Turmeric Powder
1/4 Teaspoon
Cayenne Powder
1/2 Teaspoon
Coriander Powder
2 Teaspoons
Cornstarch (Optional)
1 Tablespoon
Water (Optional)
2 Tablespoons
✓
Ingredient
Amount
Water
Fill to Rice Cooker's 2 Cup Line
Whole Black Peppercorns (Optional)
10
Steps
Make the Rice

Add the rice to a bowl and wash the rice under cold water changing the water until it becomes as clear as you can make it.
Put the butter, the peppercorns, 2 teaspoons of cumin seeds, and the big pinch of salt in the rice cooker. Close the lid cook the rice on the white rice setting.

Prepare the Ingredients for the Saag

While the rice is cooking let's make our saag! Wash the spinach well and make sure to dry it well.
Chop up the spinach in small pieces and set aside in a large bowl.
Chop up the onion into a small pieces.
Peel the garlic and either mince it fine, or put it in a garlic press.
Peel ginger with a knife (be careful to not cut yourself!), and mince the ginger as small as you can.
Cut the chicken up into fork sized bites.

Cook the Saag

Turn the instant pot on its saute mode and add the oil to the pot.
Add the remaining 1/2 teaspoon of cumin seeds to the pot and saute for about 30 seconds.
Add the onion, ginger, and garlic to the pot. Saute until the the onion is translucent.
Now add the turmeric, cayenne, and coriander to the pot and saute for 30 seconds.
Turn off the Instant Pot and add the 1/4 cup of water to deglaze the pan.
Pour all of the spinach leaves into the pot and place the chunks of chicken over the top of the spinach canopy. Sprinkle the the chicken with salt.
Put the lid on the instant pot and set it on Manual (High Pressure) mode for 9 minutes.
After the time is up quick release the pressure.

Finishing Touches

Now you can stir the saag up and see how thick it is, if it is a little runny we can add a cornstarch slurry. To make this, add the cornstarch to a small bowl with the 2 tablespoons of water. Mix well and pour this into the saag. Turn the instant pot back on saute mode and simmer this for a couple minutes and you should see the cornstarch working its magic.
By this time our rice should hopefully be done, mix it up well and plate it up along with the saag. Enjoy!