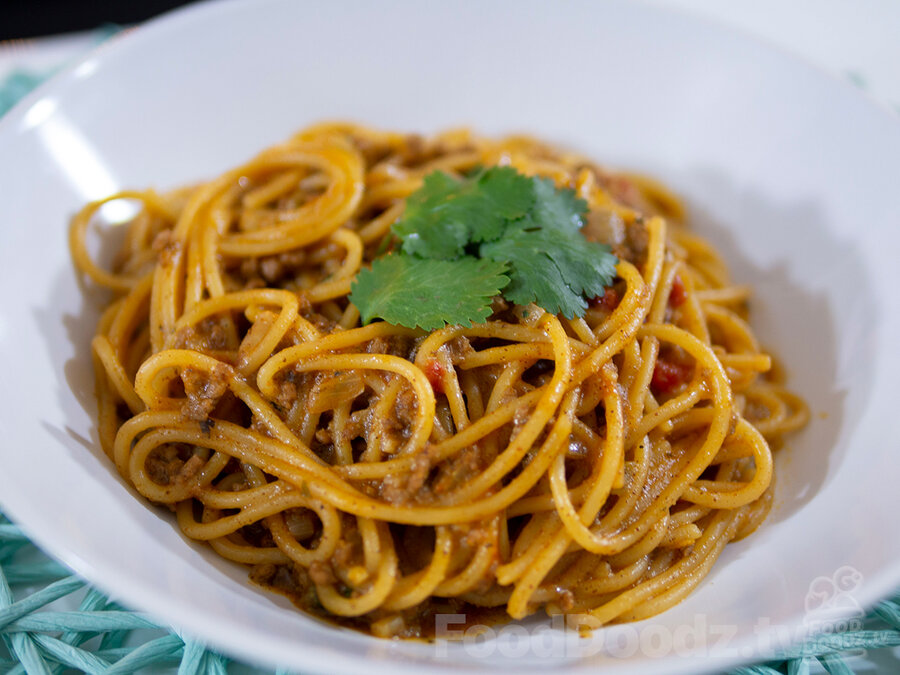 Today I'm going to show you how to make one of my favorite one pot meals, tex mex spaghetti. By one pot meals I mean everything is cooked in the same pot including the spaghetti. I know some of you might go ehhhhh, I know I thought the same thing. But it seriously works for this dish because all of this delicious sauce is absorbed directly into the pasta.
#ProTip
Make sure your pasta isn't sticking to the bottom when cooking this. If it looks dry then it probably is, add some more water.
Episode
Ingredients
How much are we making?
✓
Ingredient
Amount
Shredded Cheddar Cheese
1 cup
Tomato Paste
1 Tablespoon
Taco Seasoning
4 Tablespoons
Vegetable Oil
2 Tablespoons
Cilantro (Optional)
0.25 Cup
Steps
Prep

Chop onion and serrano into bite sized pieces

Cook

Add oil to a large or about a 12 inch skillet over medium heat.
Add ground beef and cook stirring occasionally until well browned all over.
Add onion and serrano and cook until the onion is slightly translucent.
Add garlic and saute for 1 minute.
Add tomato paste and saute for 1 minute.
Add rotel, water, and taco seasoning to pan. Mix well.
Add spaghetti to pan and try to spread it out as evenly as you can.
Bring pan to a boil then put a lid on.
Turn the heat down to low and set a timer for 15 minutes.
After the 5 minutes is up, remove the lid and stir well.
After another 5 minutes is up remove the lid and stir again. If it looks too dry or if it is starting to stick, add 1/4 cup of water.
After the last 5 minutes is up, turn off the heat and add the cheese and cilantro (if using).

Serve

Now plate. Munch. Enjoy!