IHOP Memes with Elf on the Shelf Holiday Menu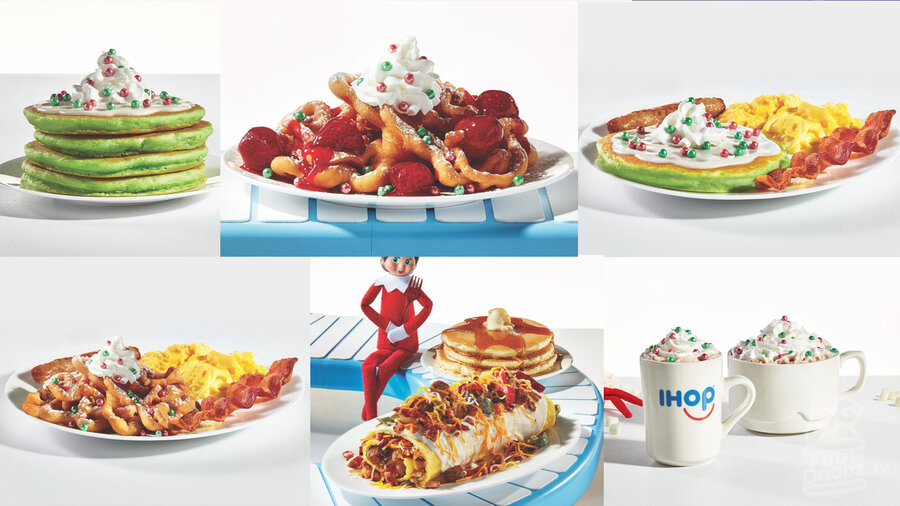 This holiday season IHOP is bringing the sugar with a memed out Elf on the Shelf Holiday Menu. The 5 limited time items will make you think Will Ferrel has snuck into the kitchen to make you breakfast. Kids are going to love these bright and colorful offerings!
IHOP has created a little story to go along with the themed menu. "Scout Elves (…) snuck in and created colorful, whimsical food that deserved its own menu." All of this is based on the Elf on a Shelf product line featuring dolls, books, and movies… which I didn't know existed until just now. Go check it out. I thought it was just a meme reference. :D
Scout Elves are being hid in different spots in restaurant and kids are encouraged to find them. To continue the theme, an Elf-themed activity sheet is available to kids busy while waiting for their green pancakes.
Additionally kids under 12 can eat free from 4PM to 10PM. Dine-in only. Drinks not included.
IHOP's 30 second ad spot for the Elf on the Shelf promotion, Stuck, is included below.
When
This promotion runs through January 1, 2020.
Where
Menu is available nationwide. Kids eat free promotion is only available at participating locations.
Jolly Cakes
They aren't kidding when they call these "cakes." Available in full and short stacks these pancakes are dyed green and topped with sweet cream cheese white icing, whipped topping, and ornament sprinkles.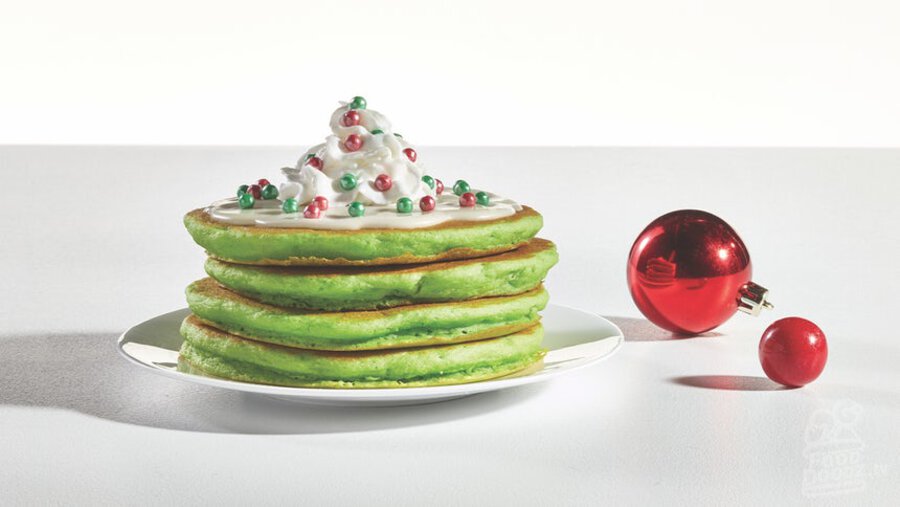 Oh What Funnel Cakes
It's a regular holiday fair with these funnel cakes. You get two cakes topped with powered sugar, glazed strawberries, whipped topping, and elf sprinkles.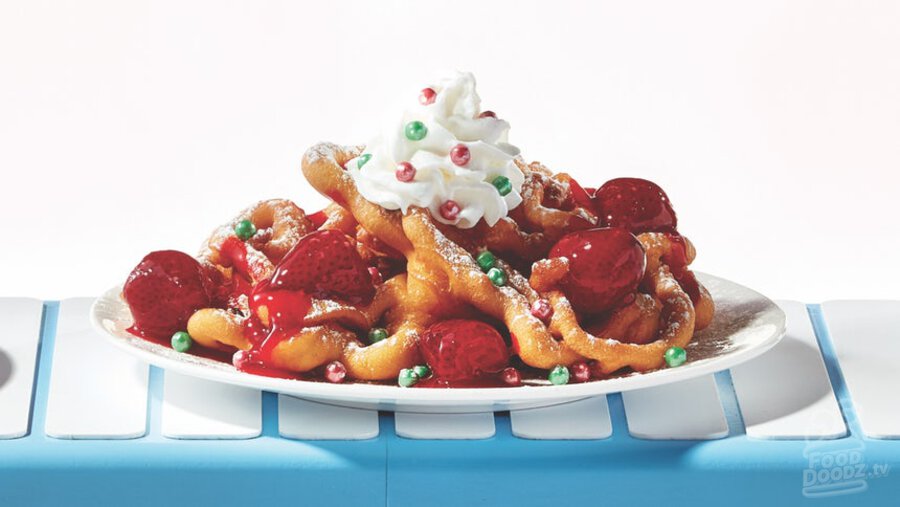 Holiday Ham & Sausage Omelette
This option is more for the grown-ups and looks pretty filling. You get an omelette filled with ham, sausage, peppers, and onions. Then topped with more ham and sausage, cheddar cheese, and a white cheddar cheese sauce. It's served with 3 pancakes or your choice of side.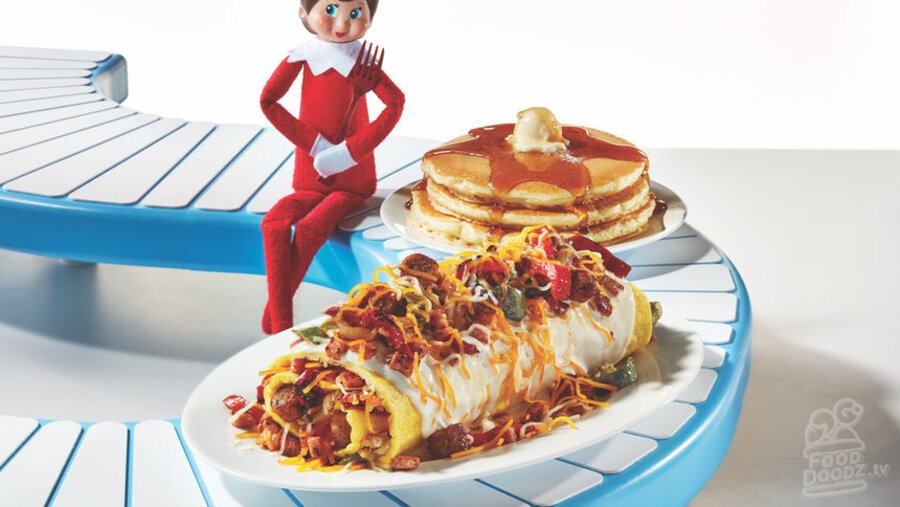 Merry Marshmallow Hot Chocolate
Kids will want this every time they visit. You'll either have to give in or lie and tell them they're out. LOL
Hot chocolate is flavored with toasted marshmallow syrup and topped with whipped topping and red and green elf sprinkles.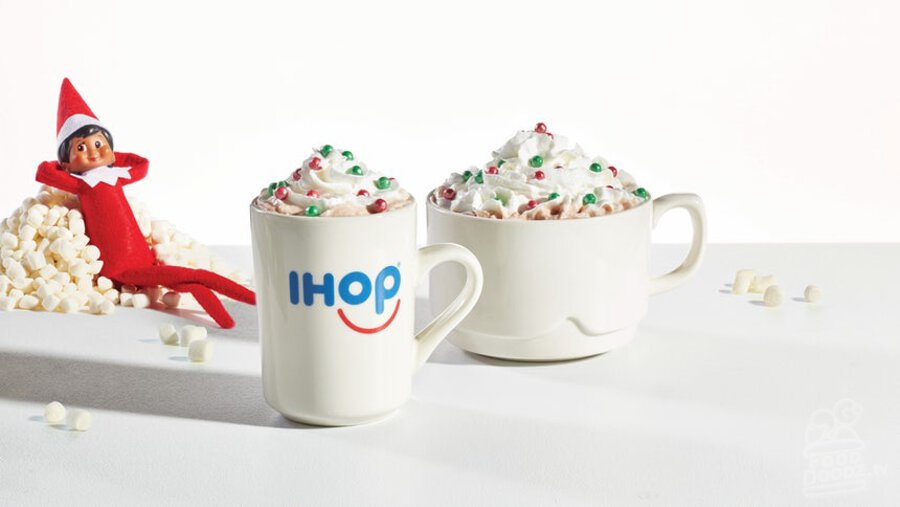 Little Elves Combo
This combo can be had with either the green Jolly Cakes (pancakes) or Oh What Funnel Cakes.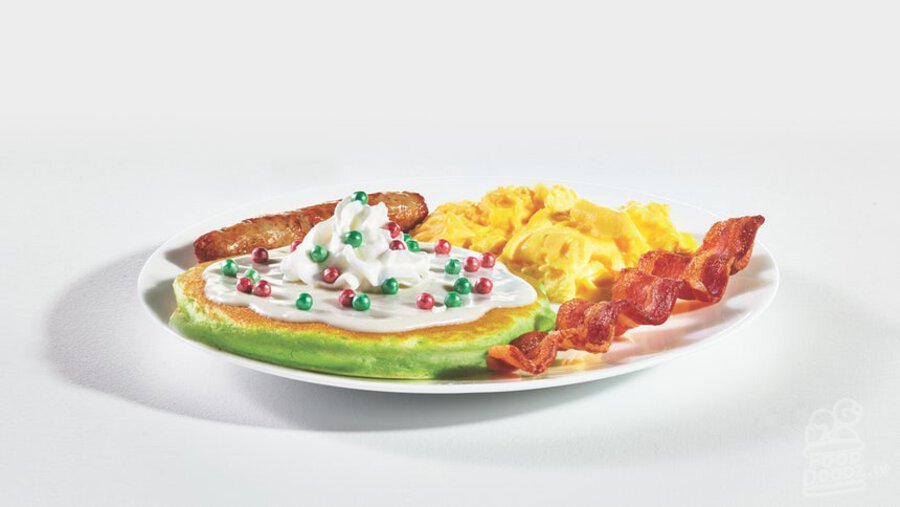 Stuck Ad