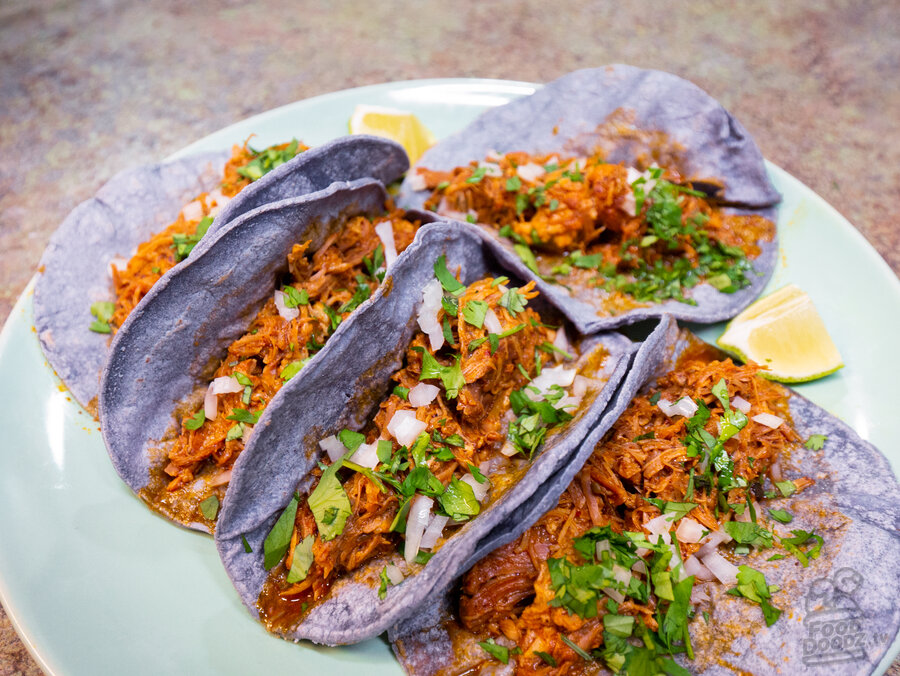 I've been trying to make different types of "Carnitas" for a while and this one might be my favorite. It's a mix of two Mexican pork shoulder dishes, Carnitas and Cochonita Pibil. The are very similar in prepartion but the main difference is that Coconita Pibil includes achiote paste and banana leaves. I don't know about you, but banana leaves are pretty hard to find, so I left it out.
Hot Tip
Try this recipe with your favorite salsa!
Ingredients
How much are we making?
✓
Ingredient
Amount
Boneless Pork Shoulder
3 Lbs
Ground Cumin
1 Tablespoon
Garlic Powder
1 Tablespoon
Onion Powder
1 Tablespoon
Chili Powder
1 Tablespoon
Chopped Cilantro Stems(Optional)
1 Tablespoon
Vegetable Oil
1 Tablespoon
Steps
Sear Pork Shoulder

Turn the instant pot to saute mode and add the vegetable oil.
Season the pork shoulder with salt (I cut mine up into 3 large pieces). Once the oil is hot add the pork to the instant pot and sear it until it's well browned on all sides.

Pressure Cooking Time

Turn the instant pot off. You should now a good amount of browned bits stuck to the bottom of the pot.
Add the orange juice, the juice of 1 lime, and achiote paste to the pot. Scrape the browned bits off and dissolve the paste.
Add the water, garlic powder, onion powder, oregano, salt, cumin, cloves, chili powder, garlic cloves, onion, serrano, and chipotles along with some of adobo juice to the pot.
Add the pork shoulder back and mix well.
Put the lid on the instant pot and turn the instant pot back on to manual mode for 60 minutes.

Final Steps

Once the timer is up, turn the instant pot off and vent it.
Turn the instant pot back on saute mode and grab a large spoon to try to shred the pork as much as you can. Simmer this mixture for about 5-10 minutes until it looks similar to the picture below.
While the carnitas are simmering, heat up some corn tortillas in a non stick skillet over medium heat for 1-2 minutes per side. Until the tortillas are warm, pliable, and maybe a little brown.
Add a spoonful or two of the carnitas to each tortilla and top with cilantro and onion. Serve with lime. Enjoy!