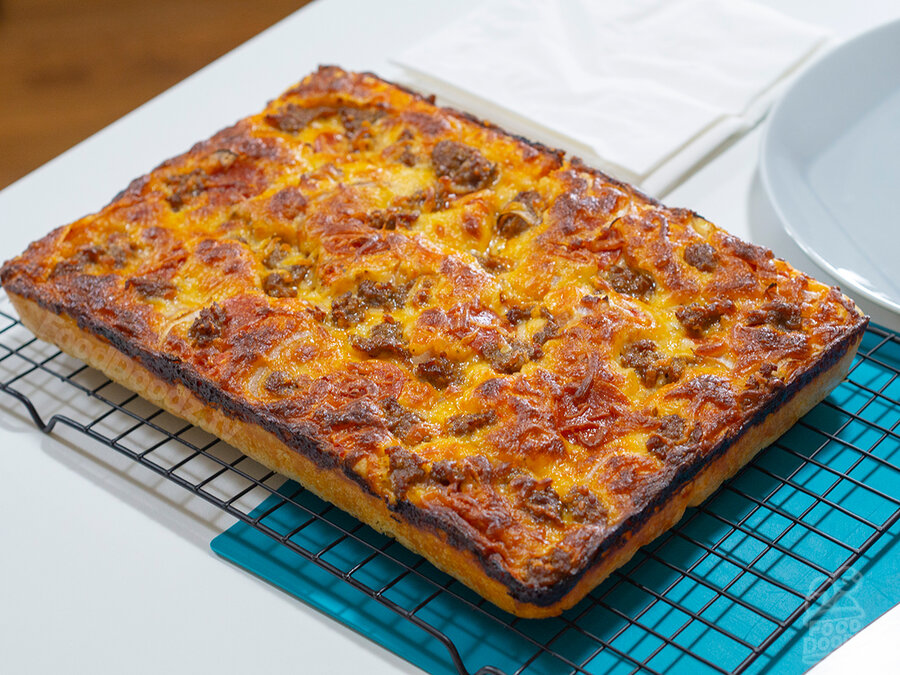 Today I'm going to show you how to make pan pizza. It's super easy and amazing. And once you figure out that you can make your own delicious pizzas you won't ever want to buy them again.
#ProTip
If your house is cold, you could turn the oven on for a couple minutes then switch it off. Place the dough in your newly warmed proofing box!
Episode
Ingredients
How much are we making?
✓
Ingredient
Amount
Flour
2 2/3 Cups (400 grams)
Water
1 2/3 Cups (280 grams)
Yeast
1 packet (2 1/4 teaspoons or 7 grams)
Kosher Salt
1 teaspoon (6 grams)
Oil
Couple squirts in bowl and enough to coat pan
✓
Ingredient
Amount
Shredded Italian Cheese Blend
1.5 Cups
Spicy Italian Sausage
1/4 pound
Onion(optional)
a Few Slices
Steps
Prep Dough

Measure out water and place into a oiled bowl
Add yeast
Add flour
Add salt
Add oil
Mix well
Oil up a thick baking sheet and try to strech the dough out to reach the edges then cover with plastic wrap. Then place in a warm place.
After about 30 minutes take dough out and stretch and fold it over on it self twice. Then place it back in the pan.

Prep Pizza

After the dough has doubled in size (can be 1-2 hours or more) we can now make the pizza. Let's turn the oven to 400.

Add sauce
Sprinkle sauce with basil, oregano, and garlic
Now cover the pizza with cheese
Add pepperonis and onions (if using)
Break off pieces of the italian sausage and place all over the top of the pizza
Now place the pan in the middle rack of the oven and set the timer for 15 minutes
After 15 minutes check it, and add 10 more minutes to the timer.
Take it out of the oven and place it on an oven rack.
Enjoy!