KFC Brings Back Chicken & Waffles in Nashville Hot with Hilarious Ad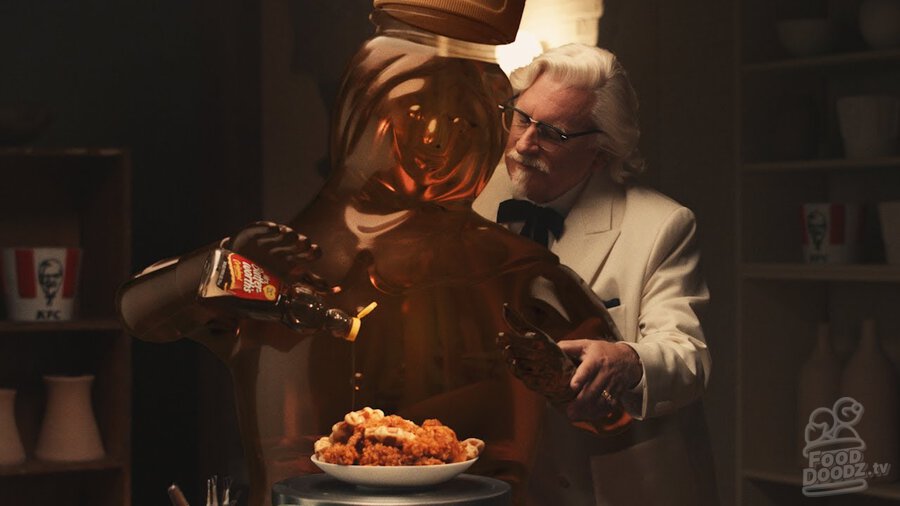 This post isn't so much about the food as it is about the ad. I couldn't stop laughing the first… and second time… and third time I saw this.
iSpot.tv lists two agencies associated with the ad: Draftfcb, Wieden+Kennedy. Not sure who did what. They win though.
Inspiration
For those too young to know where they lifted this from, it's a famous scene from the movie Ghost starring Patrick Swayze. Which, I'm sure if he was alive today he would be all for playing Colonel Sanders. LOL
Which that reminds me. If you haven't seen Road House, stop reading this and go watch that instead. Make sure to replace your thinking cap with a kung fu bandana before starting!
The Food
If you're interested in the food. KFC lists 3 options:
$6.49 Meal

w/ 1 breast, 2-piece thigh, and drum, or 3 piece tenders
1 waffle, 1 Mrs. Butterworth's syrup

$8.49 Big Basket

Choice of 2-piece white meat, 3-piece dark meat, or 4-piece tenders
2 waffles, 2 syrups

$5.99 Waffle "Sandwich"

Breast fillet between 2 waffles w/ side of syrup

Image from KFC's YouTube Video Post