Anthony Davis Lime & Jalapeno Ruffles Are the New Wheaties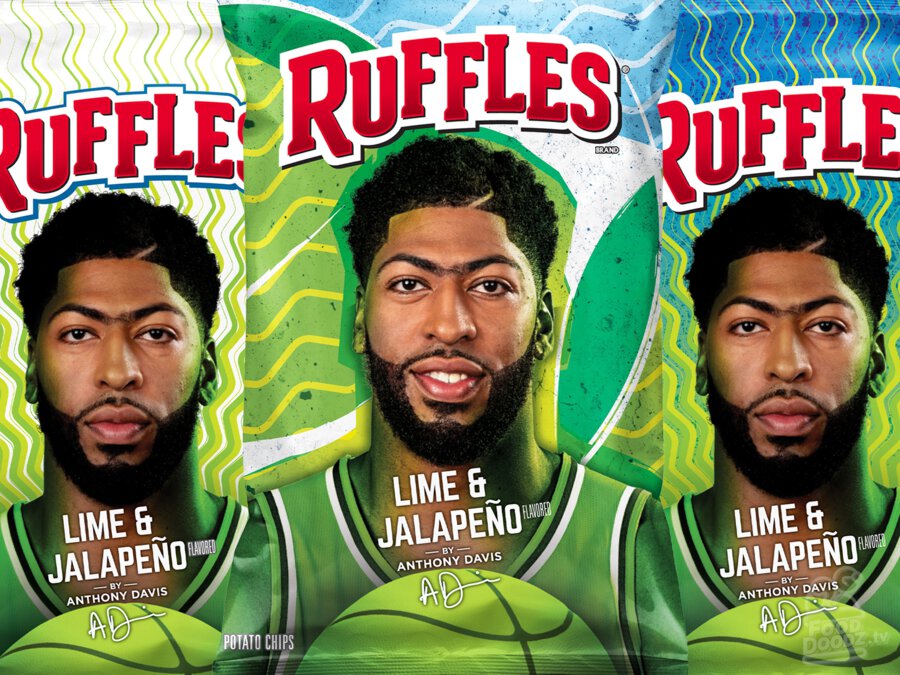 Ruffles has finally announced their first Anthony Davis branded chip flavor – Lime & Jalapeno.
The flavor joins 10 others in Frito-Lay's Ruffles lineup (see below).
Davis will be prominently featured on the bag wearing his new Lakers uniform.
Details
Availability
Select retailers: January 20, 2020.
Nationwide: February 3, 2020.
Suggested Retail Price
$4.29 for 8.5oz bag (regular)
$1.89 for 2.5oz bag (snack)
Limited Edition Bags
3 limited-time bags featuring designs chosen by Anthony Davis can be won through Ruffles Twitter and Instagram accounts.
Nutrition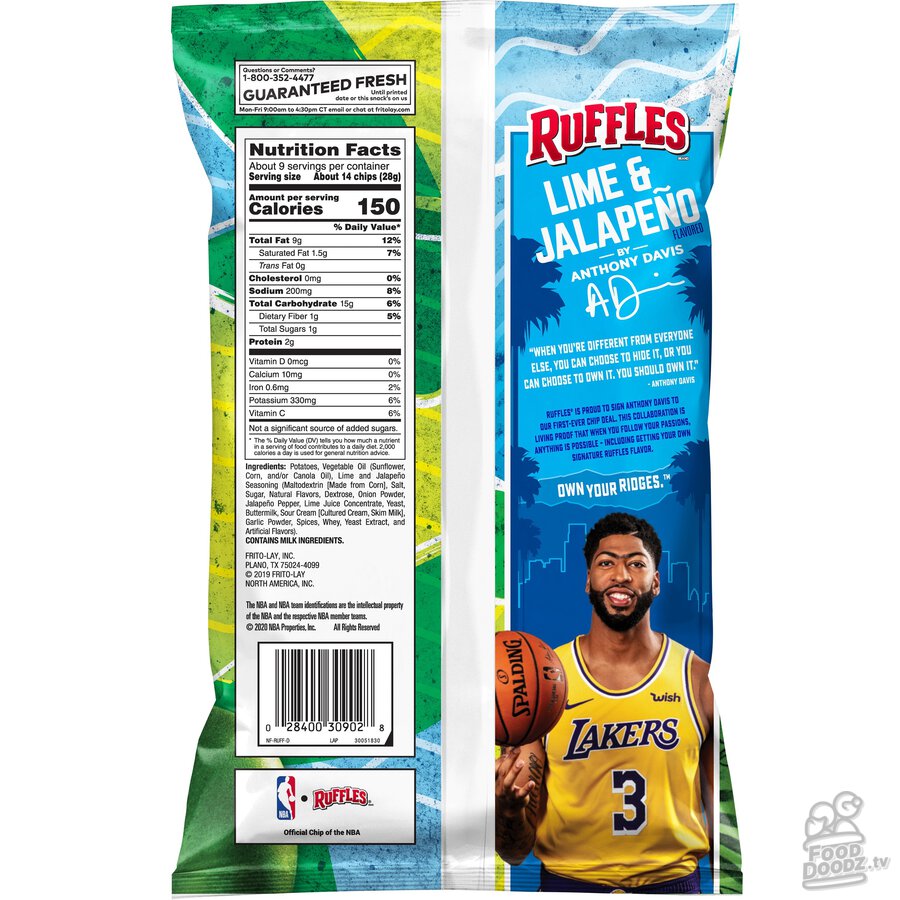 150 Calories per 14 chips
Ingredients: Potatoes, Vegetable Oil (Sunflower, Corn, and/or Canola Oil), Lime and Jalapeno Seasoning (Maltodextrin [Made from Corn], Salt, Sugar, Natural Flavors, Dextrose, Onion Powder, Jalapeno Pepper, Lime Juice Concentrate, Yeast, Buttermilk, Sour Cream [Cultured Cream, Skim Milk], Garlic Powder, Spices, Whey, Yeast Extract, and Artificial Flavors)
Launch Party
Ruffles went all out on the announcement. Renting a large venue and hosting a swanky launch party for the collaboration.
Have you tried new Ruffles Lime & Jalapeno by @AntDavis23? #RufflesChipDeal pic.twitter.com/xn4zlQPC1x

— RUFFLES (@RUFFLES) January 16, 2020
AD's unintentional recreation of the lime holding meme: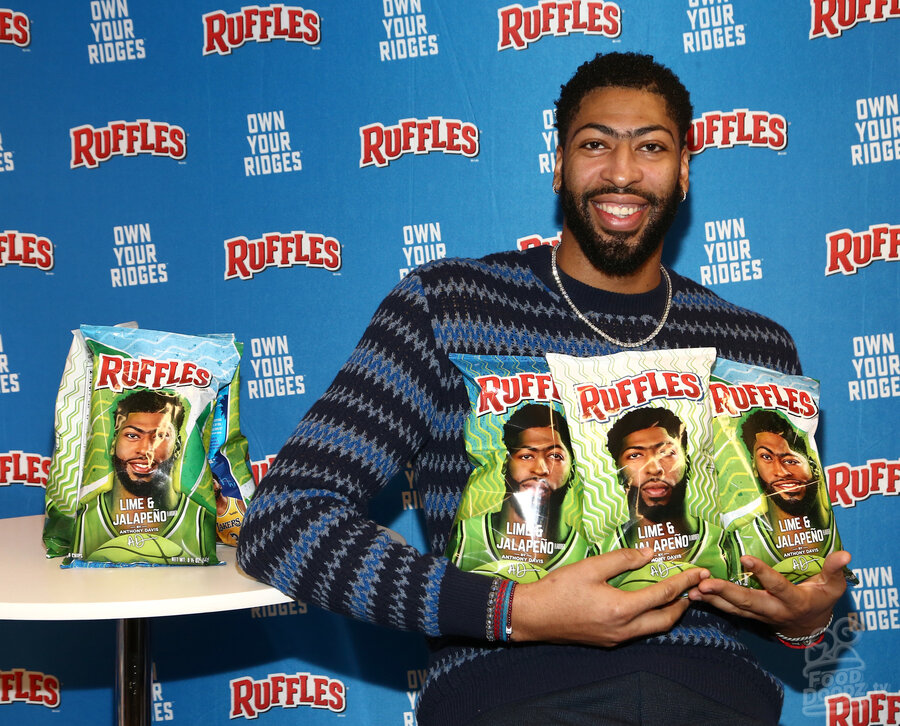 Davis wore his Ridge Tops to the event (see below):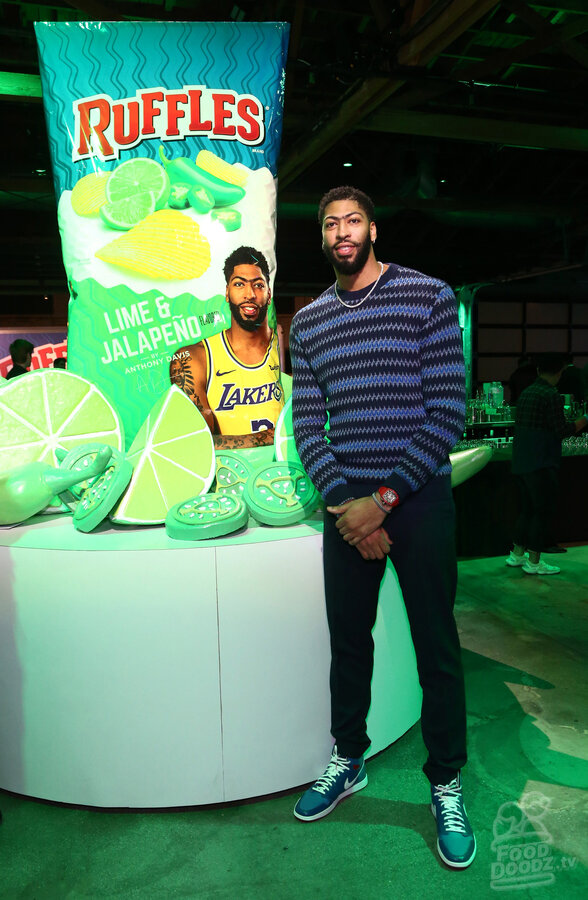 Wondering what he's going to do with all these limes…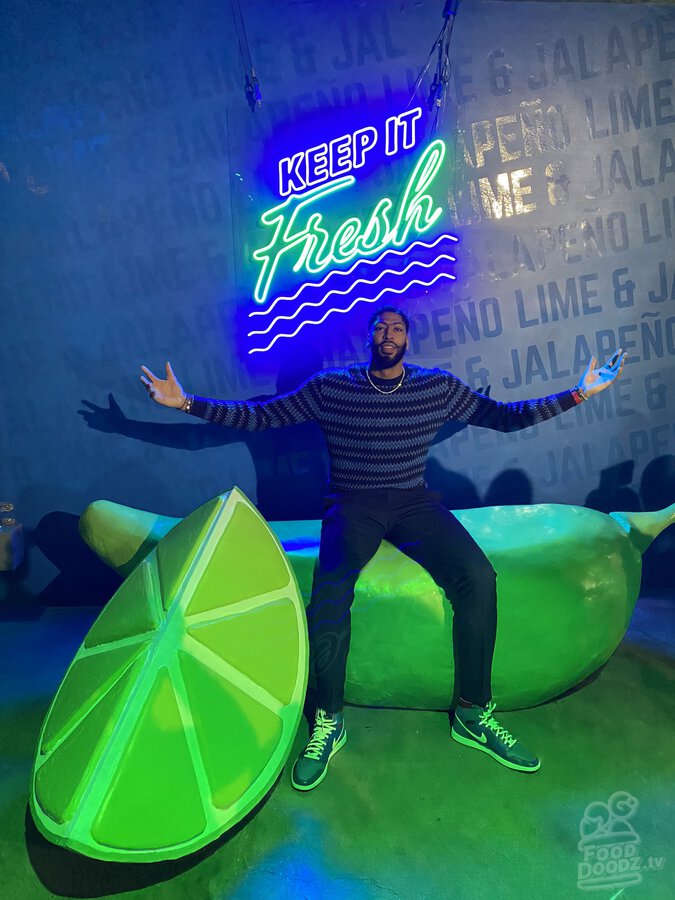 He literally drove up in a Ruffles delivery truck!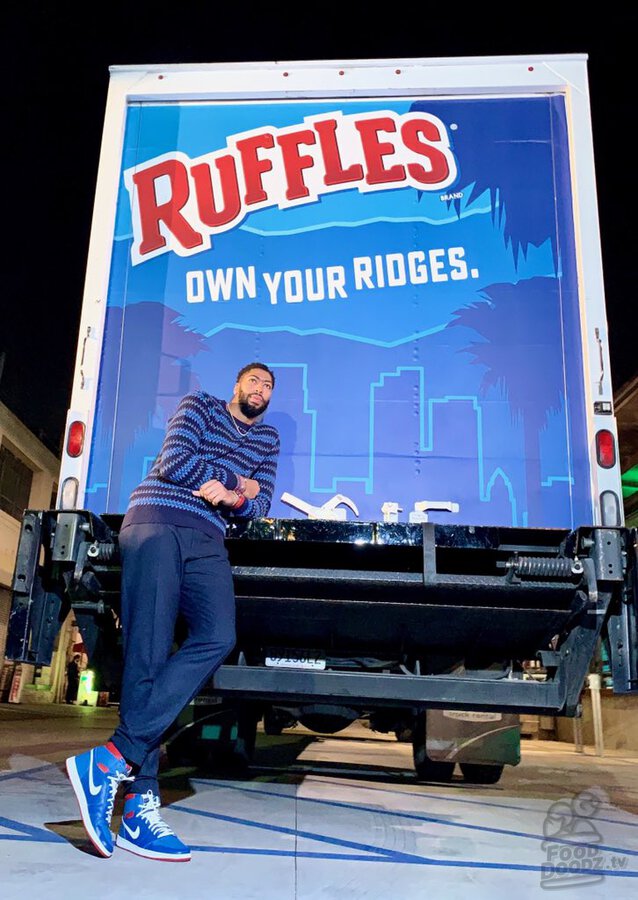 Themed gift bags were handed out to all in attendance. And I've gotta say, I feel pretty left out not getting a Ruffles sticker and mini-chip bag pinback button… Pssst, Ruffles… Send me something! 😘
Omg just opened up the Ruffles goodie box! Wtheck! Thank you Ruffles! #RufflesChipDeal #RufflesXAnthonyDavis pic.twitter.com/lSMwDfeYum

— lma (@leamellani) January 20, 2020
Jared Dudley and Quinn Cook were also at the event. No word if they've also signed with Ruffles.
#RufflesChipDeal #RufflesXAnthonyDavis Thank you Ruffles for this amazing experience! Awesome seeing these guys support each other! #LakeShow pic.twitter.com/kjBE2zh7Fx

— lma (@leamellani) January 15, 2020
There was a giant shopping cart filed with Davis sized bags of chips. I just want to know who made these props because they're awesome. We could definitely use some FoodDoodz branded mega-scale chips for our studio.
Some shots from the @AntDavis23 x @Ruffles #RufflesChipDeal Event | Outfit @Macys | Hair @RastafriBraid's sister company Fashion Source Wigs #FSWigs | Make Up @BeautyByDime 🎨🖌💄 pic.twitter.com/guWM9sdsu4

— The Mixin' Vixen (@DJDimepiece) January 17, 2020
Chip Deal
In June 2019 Anthony Davis became the first NBA player to sign a "chip deal." What this meant was at the time was unclear.
In the announcement Davis breaks out the funny with some absurd humor reminiscent of Eric Andre.
Ever since I was a little kid my two passions have been basketball and Ruffles.
Wheaties has always been the gold standard of athlete endorsement deals. The Davis Ruffles chip deal shows that as tastes continue to evolve and eating habits change, so does the need for athletes to look toward other avenues for sponsorships.
Background
Davis was recently traded from the New Orleans Pelicans organization to the Los Angeles Lakers to join up with LeBron James. A deal worked out by their joint agent Rich Paul. #LakeShow
Ridge Tops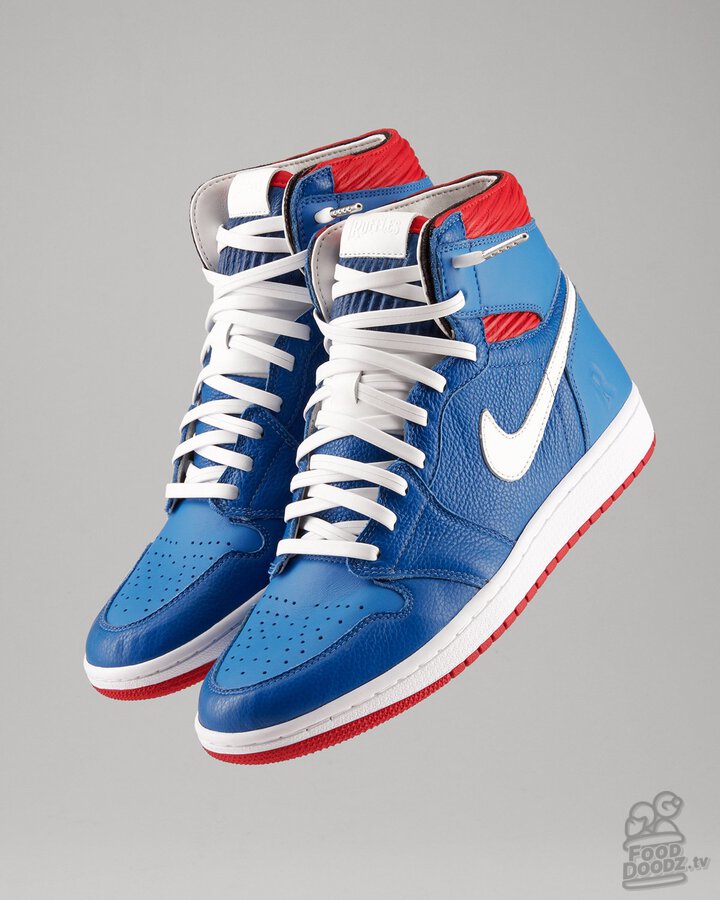 As part of the initial "chip deal" Davis worked with Shoe Surgeon to craft a custom pair of Ruffles themed shoes dubbed Ridge Tops. The only way to snag a pair was to win a Ruffles giveaway. #RufflesSneakerSweepstakes
Check out AD unboxing his pair:
If you're a sneakerhead check this unboxing video (warning it's a sponsored ad for the contest):
Flavored Lineup
I was surprised to see how many new flavors Ruffles had introduced lately.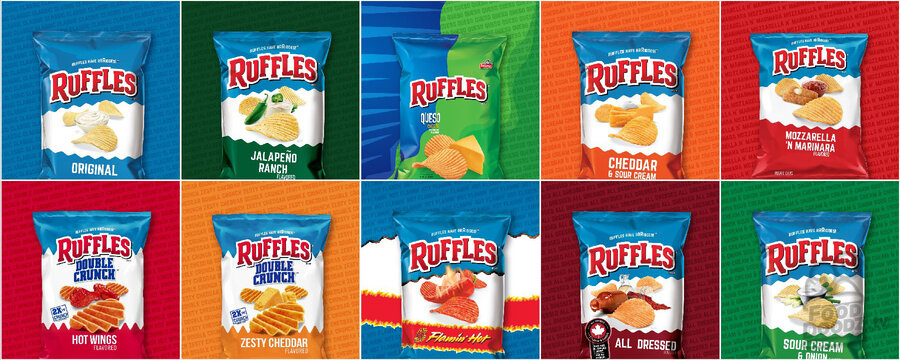 Grab some of these the next time you're at the store!
Original
Jalapeno Ranch
Queso
Cheddar & Sour Cream
Mozzarella 'N Marinara
Hot Wings (Double Crunch)
Zesty Cheddar (Double Crunch)
Flamin' Hot
All Dressed (Adam's a HUGE fan)
Sour Cream & Onion
Double Crunch is a new offshoot of kettle-cooked Ruffles. Unfortunately for non-dairy snackers both flavors (Hot Wings and Zesty Cheddar) include milk. 😢

Images from Ruffles Twitter
Images from Frito Lay North America Press Release
Image from Walmart