Every Super Bowl LIV Food and Drink Ad RANKED!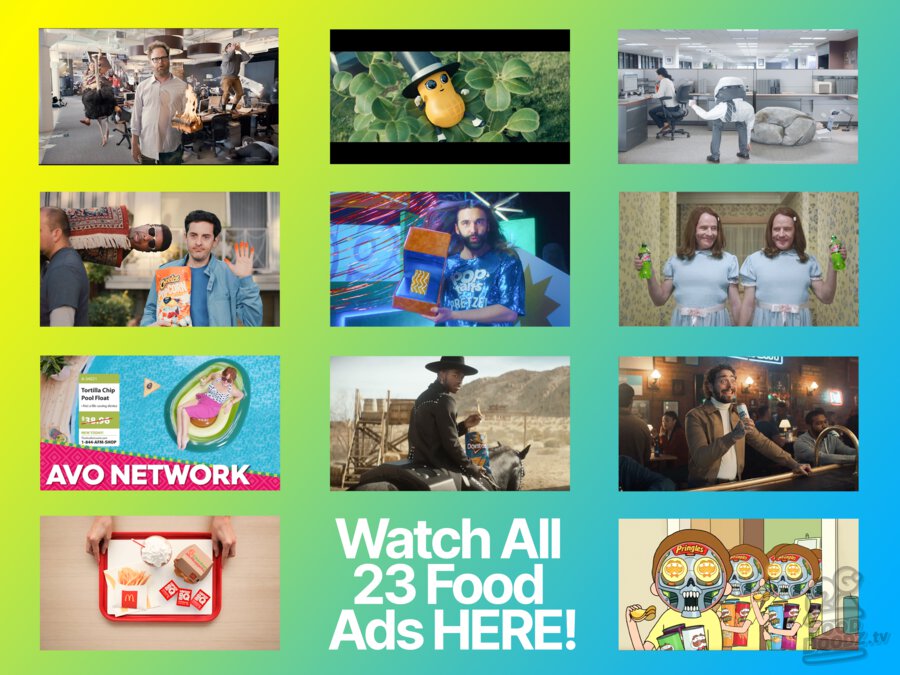 Everyone watched the Super Bowl, right? What did you remember most? The commercials, of course!
Some were good, some were great, but which one was the best?
Keep reading and find out where your favorite sits in our ranking!
Let's Go!
The Ranking
23. 6 for 6-Pack | Michelob ULTRA Pure Gold
Guys stands in field of wheat (think he's supposed to be a farmer). Then they show a football stadium. Then promise to help convert fields to organic as you drink their beer. Meh.
22. Budweiser "Typical" American
Feels a bit like an alien attempting to relate to what they think an American is… using what they've learned from watching it on TV broadcasts. Pass.
21. Presidente Beer: Never Left
Alexander Rodriguez (A-rod) goes back to a Dominican neighborhood in his native Miami, FL to promote "his" beer. Presidente Beer was recently invested in by Rodriguez and is owned by AB InBev (Anheuser-Busch). Better than Bud's ad… but just barely.
20. Rick and Morty x Pringles
This ad is going to resonate so hard with the Rick and Morty fanbase. The way he said Jalapeño was hilarious.
19. Sabra Hummus #HowImmus
Bunch of celebrities show how they "hummus" by dipping different food items into a container of Sabra Hummus. Rick Flair should have just done the whole ad.
30 Second Version:
60 Second Version:
18. Pepsi - Zero Sugar. Done Right.
Missy Elliot and H.E.R. remix Paint it Black by the Rolling Stones. Lots of dancing and mysterious set design.
This ad really left much to be desired after her Mt Dew x Doritos ad with Morgan Freeman.
30 Second Cut:
Extended Cut:
17. Tide - Bud Knight now, #LaundryLater
We know, this isn't really a food and drink ad… but Bud Knight the bulk of the commercial so we threw it in. Who doesn't like Charlie?!?
16. Coca-Cola Energy
Titled Show Up ft. Jonah Hill & Martin Scorsese. Martin Scorsese is at a party and texts Jonah Hill to see when he's going to show up. Hill's sitting at home about to fall asleep. Hill stops by a mini-mart and grabs a Coca-Cola Energy before showing up the party looking full of "energy".
Shorter version of the ad ran after the game. I can't seem to find it though.
15. Tribute by Planters Peanuts
A follow up to the video released a week ago.
SPOILER Mr. Peanut Dies!
A funeral is held for Mr. Peanut w/ Wesley snipes, the Kool-Aid man, Mr. Clean (probably more I didn't notice).
Adam thinks the dolphin is old because Riff Raff did it 5 year ago.
14. Heinz Ketchup - Find the Goodness - Four at Once
4 different scenes play out in 4 corners of screen. 1 haunted house, 1 on alien planet, 1 diner, 1 Dr. Evil styled home. All reveal a Heinz Ketchup on the table while merging together. They made four different ads!
13. Michelob Ultra - Jimmy Works It Out
Jimmy Fallon trains with John Cena. They encounter The Roots, Usain Bolt (runner), Brooks Koepka (golfer), Kerri Walsh Jennings and Brooke Sweat (volleyballers). Cena's squat line made us lol.
12. Bud Light Seltzer
Post Malone walks into mini-mart to buy Bud Light and sees Seltzer. his brain reenacts Pixar's Inside Out trying to process this new information. Everyone in his brain has face tattoos. They end up wrecking the shop. Pretty good commercial.
During a live segment they cut to 2 guys in the stadium are toasting each other with Bud Lights and Post Malone face tats. Pretty sure they were the same actors from the ad. Cool!
#PostyStore is 1 of 2 ads known as Inside Post's Brain. Both ads were posted a few days ago with the tagline "Two Super Bowl Ads. Only One Can Win." Guess we had to watch to know which they chose to run live?
We would have ranked this higher if the Bar version would have run. It's just sooooo much better!
11. Famous Orders by McDonald's
Overhead view of orders from a variety of famous people (real and fictional). A really simple concept that's done extremely well. It's elegant and relatable. One of our favorites.
Like a Tasty video. This is one of many top down videos McDonald's has put out in the past two years.
10. Mountain Dew Zero
Bryan Cranston and Tracee Ellis Ross re-enact key scenes from Stanley Kubrick's The Shining. "Here's Mountain Dew Zero!"
The cut of Cranston's agreeing face to the famous elevators scene is great.
9. The Avocados from Mexico Shopping Network
Avocados From Mexico sells accessories for your avacado like QVC. Helmet, Baby carrier, warmup suit, etc. Very cute and funny.
There's even a website where you can win all of the fake products featured in the ad! https://avocadosfrommexico.com/big-game/
Adam knocked it down a position because the aired ad cut the music box jingle and her stuffing her face. Both were hilarious.
Aired:
Extended:
8. Saint Archer Gold Beer - "PATIENCE"
Guy on skateboard skates around to different stores while whistling looking for a beer that's sold out everywhere.
Adam thought it was another Michelob ad… so maybe it didn't work?
Best filmed ad of whole Super Bowl. Simple. One guy being followed to different locations throughout a day.
60 sec:
30 sec:
7. SodaStream Discovers Water On Mars
Bill Nye reacts to water being found on Mars. Cuts to guy using the water to make soda in a Sodastream. LOL
A week before the Super Bowl SodaStream released a teaser with Bill Nye:
Long Version:
Short Version:
6. Cheetos Popcorn - Can't Touch This
A guy realizes he can hold up his hand with Cheetos dust covering his fingers. Then gets out of doing a range of jobs and tasks. MC Hammer's head pops out in every scene to say "Can't Touch This" matched to his trademarked song.
New tagline being used: "It's a Cheetos Thing"
5. Pop-Tarts Fixed the Pretzel
Japanese gameshow crossed with graphics that are reminiscent of As-Seen-On-TV infomercials. So many practical effects happening in this one. One of my favorites. Jonathan Van Ness is great!
4. Doritos The Cool Ranch feat. Lil Nas X and Sam Elliott
Lil Nas X stands off against Sam Elliott, who played the mysterious cowboy in The Big Lebowski. Instead of drawing guns they compete in a dance off. Lil Nas X wins by mounting a dancing horse.
Adam won me over. I would have put it below Pop-tarts.
Long Form:
3. Snickers - #SnickersFixTheWorld
Various scenes show how the world's gone mad. Everyone gathers to feed the Earth a Snickers. Luis Guzman comments on internet celebrities. :D
Monday morning they continued the campaign with short social media videos. Here's our favorite, "ONLINE DATE":
2. Little Caesars - Best Thing Since Sliced Bread
Little Caesars introduced their DoorDash deal with a bang. This commercial has everything. Rainn Wilson (Dwight from The Office) freaks out when he learns there's a new best thing (since sliced bread). The sound effects are what put this one over the top for me.
30 sec:
Extended:
1. Reese's Take 5 Bar - "Rock"
Lady sitting in office runs through idioms when her coworker hasn't heard of Reese's Take 5. Simple concept. So well done!
30 sec:
Extended: